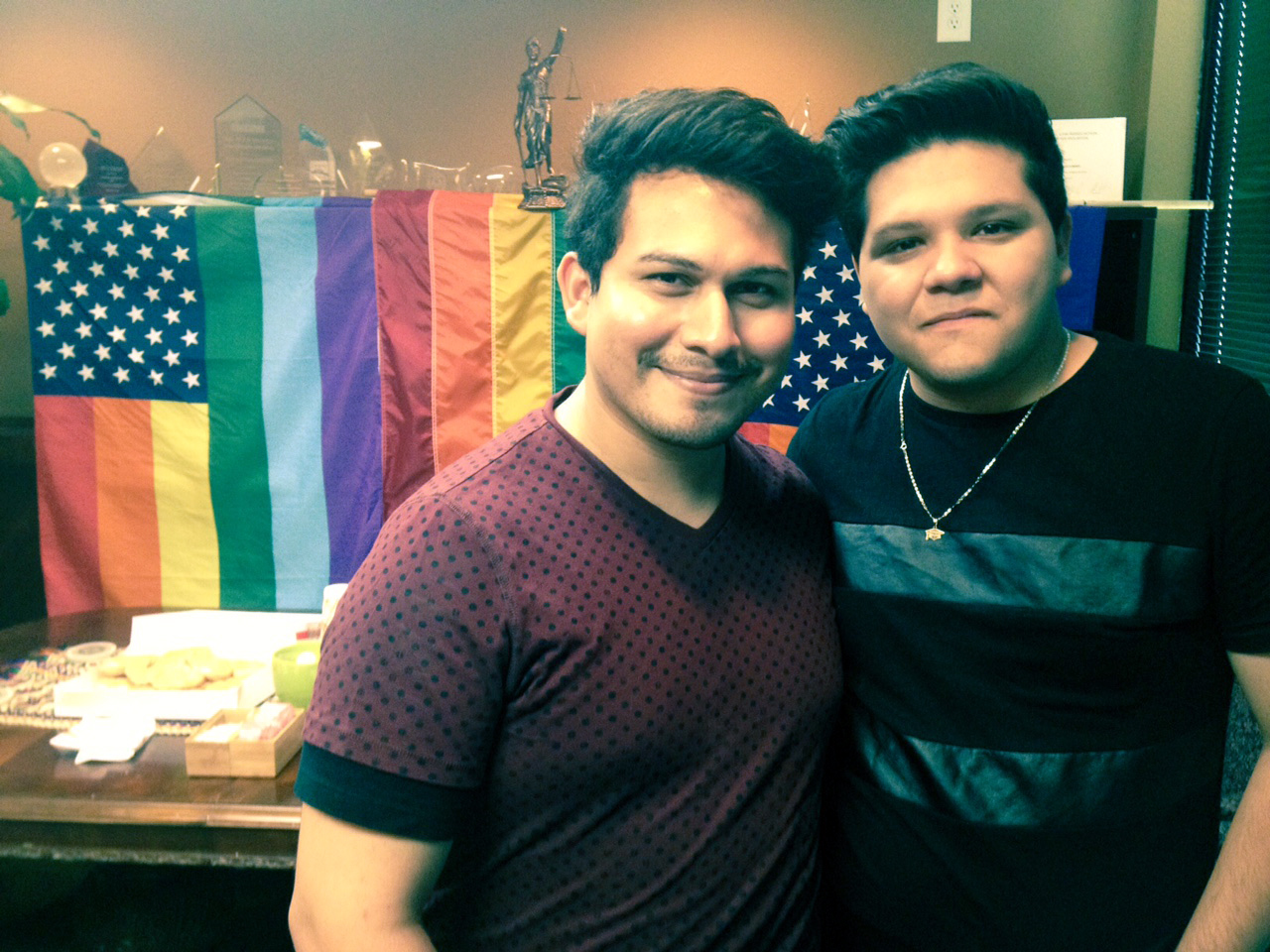 Sergio Andrade (on the left) and Miguel Carrillo (on the right) were married in California two years ago.
Katine & Nechman, near Hermann Park, is a law firm known for its advocacy on behalf of gay rights. Lawyers and friends gathered there Friday morning to wait for the decision, and celebrated afterwards with coffee and pastries.
Mitchell Katine represented two Houston men who sued after being arrested in 1998 for violating Texas's "homosexual conduct" law. The case eventually reached the U.S. Supreme Court, which ruled in Lawrence v. Texas (2003) that gay partners have a right to engage in private sexual acts. The decision overturned all sodomy laws still on the books in various states, including Texas.
Katine's law partner, John Nechman, represents gay couples dealing with immigration issues. He has been with his life partner for 19 years, though they're not yet married.
"We truly took a gigantic step forward as a nation today and this is a tremendous moment for civil rights," Nechman said.
Sergio Andrade, 28, joined the gathering a few minutes late. He and his husband were still driving over when the news broke.
"We heard it on the radio and we were really excited," Andrade said. "I had like a little gay flag, so I just pulled out the rainbow flag on the freeway, honking. I'm sure people were like 'Who's that crazy guy with the rainbow flag?'"
Andrade and his husband Miguel Carrillo were married in California two years ago. Carrillo says when they got back home, he changed his last name to Andrade. He didn't have a problem making the change on federal documents, but he wasn't able to get Texas to issue him a new driver's license.
"We get to the DPS and she was like 'What is this?' I was like 'It's my marriage license' and she's like 'Oh, we don't accept that here.' It was just very rude," Carrillo said.
Carrillo said he'll try again now that same-sex marriage is legal in Texas, too.
But enforcement of the court's decision might not go smoothly. Soon after the ruling, Gov. Greg Abbott issued a memo to state agencies supporting the religious rights of state employees who oppose gay marriage. It's not clear if that means state agencies can deny benefits to gay couples in Texas.
Nechman says to brace for more lawsuits.
"You know everyone's asking 'Well, does this mean we have all the rights under Texas state law?' My answer is yes, but we may still have to fight like hell for them, because we're expecting pushback."
Nechman points out that there's no Texas or federal law forbidding discrimination in the workplace based on sexual orientation.
"So a couple that marries, maybe they're perfectly legally married, but nothing keeps an employer in the state of Texas from firing them based on that," he said. "So these will be continuing battles."