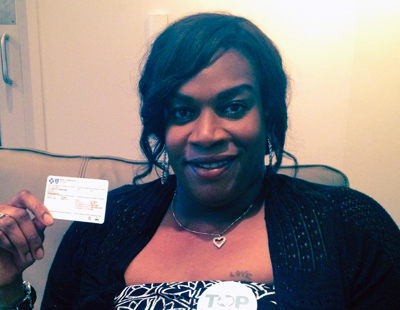 Claudette Newsome
Claudette Newsome, a self-employed consultant from northeast Houston, was uninsured for 17 years, almost her entire adult life. Now she has coverage through a subsidized plan from Blue Cross Blue Shield. It covers both herself and her two daughters.
"When I got my insurance card I was excited," Newsome said. "I showed everybody."
Newsome has sarcoidosis, an autoimmune disorder that can affect multiple organs. When she was uninsured, she paid out of pocket for care or relied on a friend to help pay medical bills. Newsome's husband died five years ago from cancer. Because he was also uninsured, the couple struggled to find charity programs to help pay for the treatment.
Newsome's current insurance plan costs $768 a month. After the subsidy, she only pays $183 out of pocket. Without the subsidy, she could never afford the coverage, she said.
The Court decision allows those subsidies to continue in Texas and in 33 other states that used the federal insurance exchange. (States that set up their own insurance exchanges were unaffected by the lawsuit and ruling.)
"We won!" Newsome said.
Doctors and healthcare workers at safety-net clinics in Houston also cheered the ruling.
"This is not the end of the road, but it's a big victory for healthcare," said Dr. Andrea Caracostis, the executive director of the Hope Clinic in west Houston. It serves low-income and uninsured residents, many of them Asian immigrants.
Over the past two years, workers at the Hope Clinic helped more than 5,000 uninsured people sign up for the plans. Of those, 3,000 stayed on as patients at the Hope Clinic.
It would have been disastrous if the Court had ruled differently and all those people went back to being uninsured, Caracostis said.
"I was scared, I don't know what people are thinking," she said, referring to the multiple lawsuits filed by political opponents of the health reform law. "I don't (know) why they play with people's healthcare like that."
Despite the ruling, Texas Republicans vowed to keep fighting to overturn the law. Congressman Kevin Brady represents the Woodlands.
"It's disappointing," Brady said. "The Supreme Court ought to get an Olympic gold medal for the torturous legal gymnastics it displays, shoring up the unconstitutional and unworkable Affordable Care Act."
But Claudette Newsome argued that when taxpayers subsidize insurance up front, it actually saves society money in the long run.
For example, last week she felt a strange bump on her neck, but she was able to go to her personal doctor instead of an emergency room or a public clinic funded by Harris County taxpayers.
"Before, I would be sitting at home and wondering and trying to figure out how to pay or who I need to go to see to take care of this," she said.
"Now I have a doctor I can tell her what's wrong with me, she can refer me to the right person to take care of me. So I'm good, I'm keeping my health insurance. I'm glad they're allowing me to keep my health insurance."
Across Texas, about 830,000 people depend on the subsidies to pay for insurance. An additional one million Texans could also get the subsidies, but haven't signed up for them.
Texas still has the nation's highest uninsured rate in the country. Many of those uninsured Texans don't qualify for the subsidized plans. They could potentially be helped by a statewide expansion of the Medicaid program, but that part of the law is optional. Texas Republican leaders oppose expanding Medicaid, both because of its association with the Affordable Care Act, and because many dislike Medicaid and its bureaucracy.
But supporters of the law say this might be a good time to reconsider.
"This is a signal that the Affordable Care Act is here to stay," said Elena Marks, president of the Episcopal Health Foundation in Houston and a health policy scholar at Rice University.
"We need to work to improve it, but we can't ignore it and hope it will go away. And I hope that Texas lawmakers will take that to heart," she added.