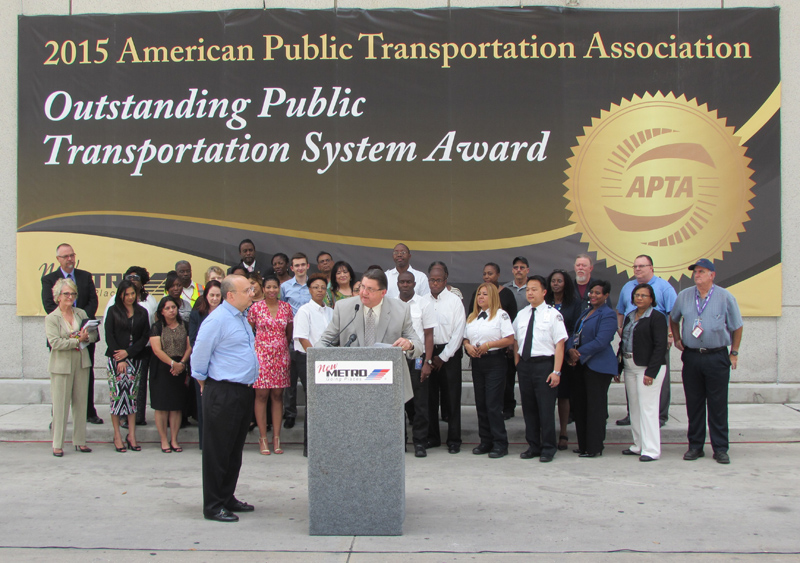 Metro also announced its 2015 "Outstanding Public Transportation System" award from the American Public Transportation Association.
Those new routes go into effect citywide on Sunday, August 16. To mark the occasion, Metro is offering a week's worth of free rides on all its local buses through August 22. Free rides will also be offered on Metrorail.
The transit agency says it could lose over $800,000 in revenue because of the free trips, but CEO Tom Lambert says he thinks it's worth it.
"We're making such a significant improvement to the network, we want to make sure our existing customers have an opportunity to really ride it as many times as they can during that free fare week to get very comfortable with the system because it is a bit changed," says Lambert.
Metro's announcement comes as it gives final approval to its new bus map. Officials say many of the new routes will offer more frequent service, and better connections to Houston's employment centers.
But some longtime riders complain they'll have to walk farther to get to a bus stop. Metro Chairman Gilbert Garcia says they're working to address those concerns.
"There's one particular health clinic we're going to look at to see if there's a way we might be able to work with some of those folks to see if they can go into MetroLift. We might look some more at these circulators. So we heard them. We're going to look at those to see if there's another way we might address the needs," says Garcia.
In developing the new routes, Metro says it hopes to increase ridership by about 20 percent in the first two years.