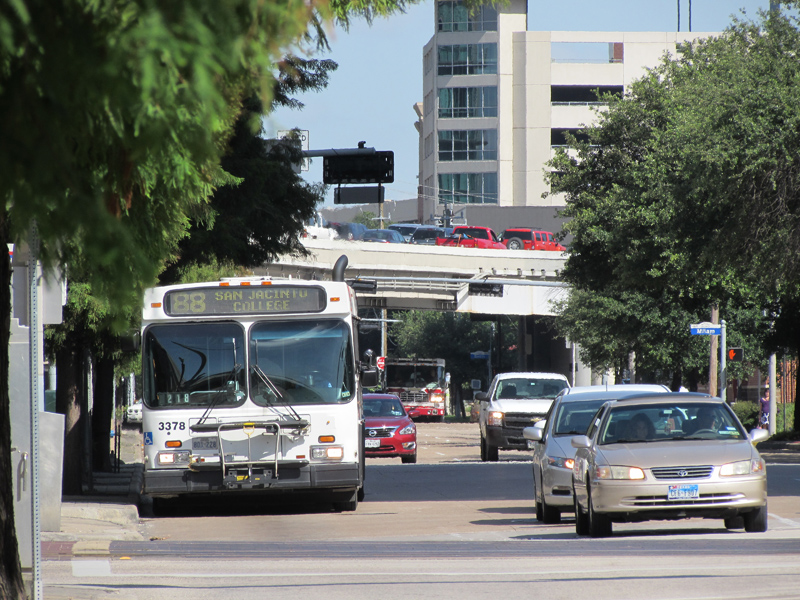 Downtown Houston
It's toward the end of the morning rush, but there's still a lot of activity at the Downtown Transit Center. We meet up with bus rider Milton Pruitt. He works as a waiter and just had an uneventful ride from southwest Houston.
"The bus isn't too bad. You know, a little tardy sometimes, but most of the time it's pretty much dependable," says Pruitt.
Pruitt says he gave up his car about three years ago. These days he mostly uses transit. And he says he's figured out how to work with the system.
"I've just learned to start earlier. Whereas others leave an hour earlier, I leave two hours earlier so I'm certain I'm on time," says Pruitt.
And Pruitt isn't the only Houstonian who's carefully plotting a route.
Our News 88.7-KHOU 11 News Houston Mayoral Poll found that the top issue on voters' minds was transportation, things like congestion, potholes, and the state of public transit.
When asked what Houston should do to relieve its transportation problems, 41 percent said they wanted more buses and trains. Thirty-four percent said improved roads. Another 14 percent said they wanted communities close to where they worked.
But in a city that loves to drive, Rice University pollster Bob Stein says the change in attitude concerning transit may have to do with demographics.
"Included in this group are people under the age of 34. Not many of them, but a disproportionate number of them are Hispanic. And they are people who prefer to live inside the 610 Loop, and they prefer to take mass transit to work, or for that matter shopping and school and other activities," explains Stein.
The poll results come as Metro is about to launch a major revamp of Houston's bus networks. Officials say the goal is to increase frequency, and to provide better connections to the city's new employments centers.
Metro Chairman Gilbert Garcia says he's not surprised Houstonians responded the way they did.
"They're frustrated in traffic, and the longer you just build more and more freeways, all you're doing is creating more capacity for cars which then get bottlenecked somewhere in the city, which just ties into the roads and the roads needing repair," says Garcia.
Although decision-making power lies with Metro's board, Houston's mayor nominates five of those board members, and they're approved by City Council.
Garcia says the new mayor will inherit a much-improved system. But as the city's population continues to grow, there are still some major challenges.
"Especially out in the western part of the area for our park-and-ride network. We still haven't focused on the Energy Corridor, Greenway Plaza, getting to the airports," says Garcia.
The poll's findings concerning public transit are much in line with earlier research from the Texas A&M Transportation Institute, which showed support for increased funding for buses and trains, especially inside the 610 Loop.
Jonathan Brooks is a researcher based here in Houston.
"Residents closer in to the major employment centers recognize that there's really only so much land," says Brooks.
And Brooks points out you can put lots of buses and vans on freeways that are already built, instead of building new roadways for more cars.
"There's an interest in public transportation because it can augment, leverage that resource and potentially get more out of it," says Brooks.
Meanwhile back in downtown Houston, bus rider Milton Pruitt says along with all the talk about money and public policy, there's another issue:
"I notice that all of the people driving the cars are so angry. So very, very angry. And it's frightening," says Pruitt.
And it remains to be seen if that freeway frustration will drive voters to the polls this November.