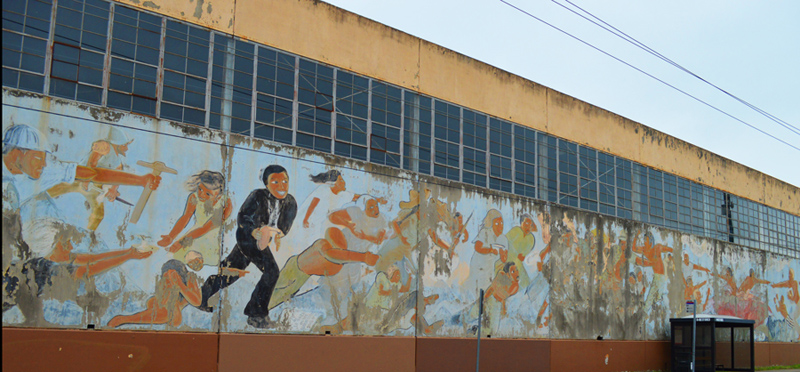 Renowned Chicano artist Leo Tanguma painted "The Rebirth of Our Nationality" in 1973 on a building that Harris County bought in 2012 and will use for storing records, including court files. The mural will be restored when the building is renovated. Photo courtesy of Harris County District Clerk's Office
Leo Tanguma's The Rebirth of our Nationality will have a rebirth of its own. The mural paying homage to the Chicano liberation movement lives on the wall of an old cannery on Canal Street.
Right now, some parts of the 4,000-square-foot painting are so faded and peeling that it's hard to tell what's there.
That'll change when the Harris County District Clerk's Office starts renovating the place. They're planning to relocate to the three-story warehouse within a couple of years. Community activist Carlos Calbillo says the mural's restoration couldn't have come at a better time.
"It will also help revitalize the entire East End, now that arts have been blowing up in that part of the city," Calbillo says. "And it's going keep doing that for the future."
When Tanguma painted the mural on what was then the Continental Can Company in the 1970s, the Chicano movement was well underway across Houston and the country. Calbillo adds that there's not just an artistic value, but also a historical one.
"At the time it was produced, it was the largest mural in the United States related to the theme of Chicano liberation," he says.
The district is putting about $8 million into the warehouse's renovation. About $70 thousand of it will go to recreating the mural. But who the chosen artist will be is still undecided.
The town hall meeting is Thursday evening, June 25th at 6:30 inside the METRO Service and Inspection Facility, 5880 Texas Street.