Speakers recited works by the late poet at the dedication ceremony. Dozens attended the unveiling of the commemorative stamp honoring Maya Angelou at Texas Southern University.
Houston Postmaster Bobby Collins says it's the Postal Service's highest honor.
"And yet, her life, so meaningful and varied, can hardly be contained within the four corners of a stamp," Collins says.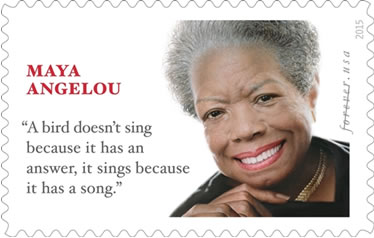 Photo courtesy of the USPS
The stamp was first issued in April. Organizers coordinated Houston's celebration with Juneteenth, the day African-American slaves in Texas learned they were free. The limited-edition stamp features a portrait of Angelou along with a quote that has stirred up controversy.
Congresswoman Sheila Jackson Lee couldn't attend the event, but she did make a speech via speakerphone.
Congressman Al Green spoke about Angelou's rise from humble beginnings.
"She allowed her great literary talents to be exposed," Green says. "We must allow her to become a supreme, superb example for our young people."
The first U.S. stamp to honor an African American was issued in 1940 and featured Booker T. Washington.