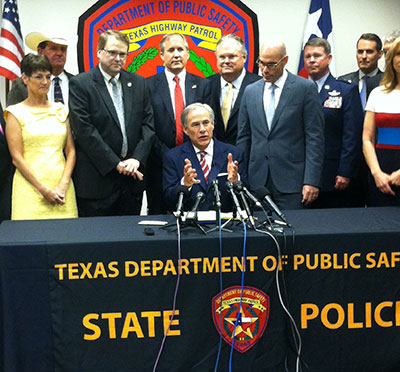 Texas Governor Greg Abbott signed several border security measures into law at ceremony in Houston.
Texas Governor Greg Abbott signed several measures into law allocating more resources to border security. The plan includes $800 million in funding for training and equipment.
Speaking at the Department of Public Safety headquarters in Northwest Houston, Abbott said the newly-signed legislation will allow DPS to hire 250 more state troopers.
"Because of the magnitude of this challenge, I declared securing the border an emergency item, and the Texas Legislature responded profoundly and strongly," Abbott says.
He says the federal government has not done enough, and it's up to Texas to step up and secure the border with Mexico.
But some groups say the increased funding won't solve complex immigration issues.
"It's simplistic to say that if you throw more money at the border, it's going to change that," says Mary Moreno, with the Texas Organizing Project.
The governor also signed bills to toughen penalties for human traffickers and to support anti-gang efforts.