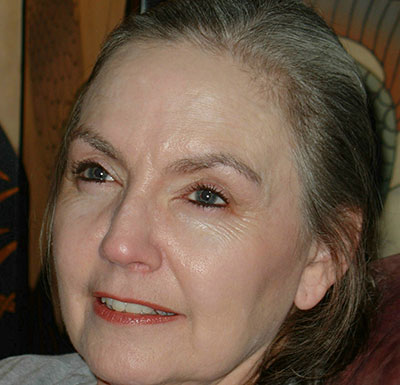 Even though she wasn't born here, Robin Davidson is about as Houstonian as they come. The silver-haired English professor has an eloquent, Southern drawl, a friendly smile, and a certain genteel presence. On her proclamation day as new poet laureate, she wore a light gray pant suit with a string of pearls.
"I am privileged and honored to have been appointed," she said while sitting on the mayor's couch for a post-ceremony interview.
"I've been a Houston resident for almost fifty years," Davidson says. "I feel deeply connected both as someone who grew up in Houston public schools (and) I've worked with the Writers in the Schools program that originated in Houston and is now a national organization."
Davidson is an English professor at the University of Houston-Downtown and says she works with students from all parts of the city. She was a student with the university herself, studying in the creative writing program for a number of years before earning a couple of degrees.
Davidson has three priorities in carrying out her new role as poet laureate.
"One thing I'd really like to be able to do is to give something back to my university, who has been so incredibly generous to me."
She says she also hopes to bring attention to the diverse range of poets that Houston has to offer.
"There are academic poets. There are community poets. There are performance poets… All kinds of poets. So I'd really love to build a website that identified all of those practicing poets and their work," Davidson says. She added that she wants to follow the example by former U.S. poet laureate Robert Pinsky by creating an anthology of Houston's favorite poems.
Throughout her years as a professor, Davidson has worked with a lot of first-generation college students. She says this is one reason she's passionate about reaching out to Houston's growing immigrant population.
"Poetry is a democratic process," she says. "And so, for me, poetry is, I think the deepest form of democracy."
Davidson is replacing Gwendolyn Zepeda, who was chosen by Mayor Parker as Houston's first poet laureate two years ago. She says she hasn't had her first assignment yet, but admits that writing on command is a little intimidating.
"I will tell you that I have never written on command," Davidson says. "So when the mayor was congratulating and thanking Gwen for stepping up, I'm shaking in my shoes, thinking, 'Oh my God, I don't know if I can do that,' but I will try."
She'll have a helpful guide in Zepeda, who she says she'll turn to for insight.
"Things to expect, ways that I can really do a good job for the mayor and for the city and the citizens of Houston. And also, you know, really honor poetry and what poetry means," she says.