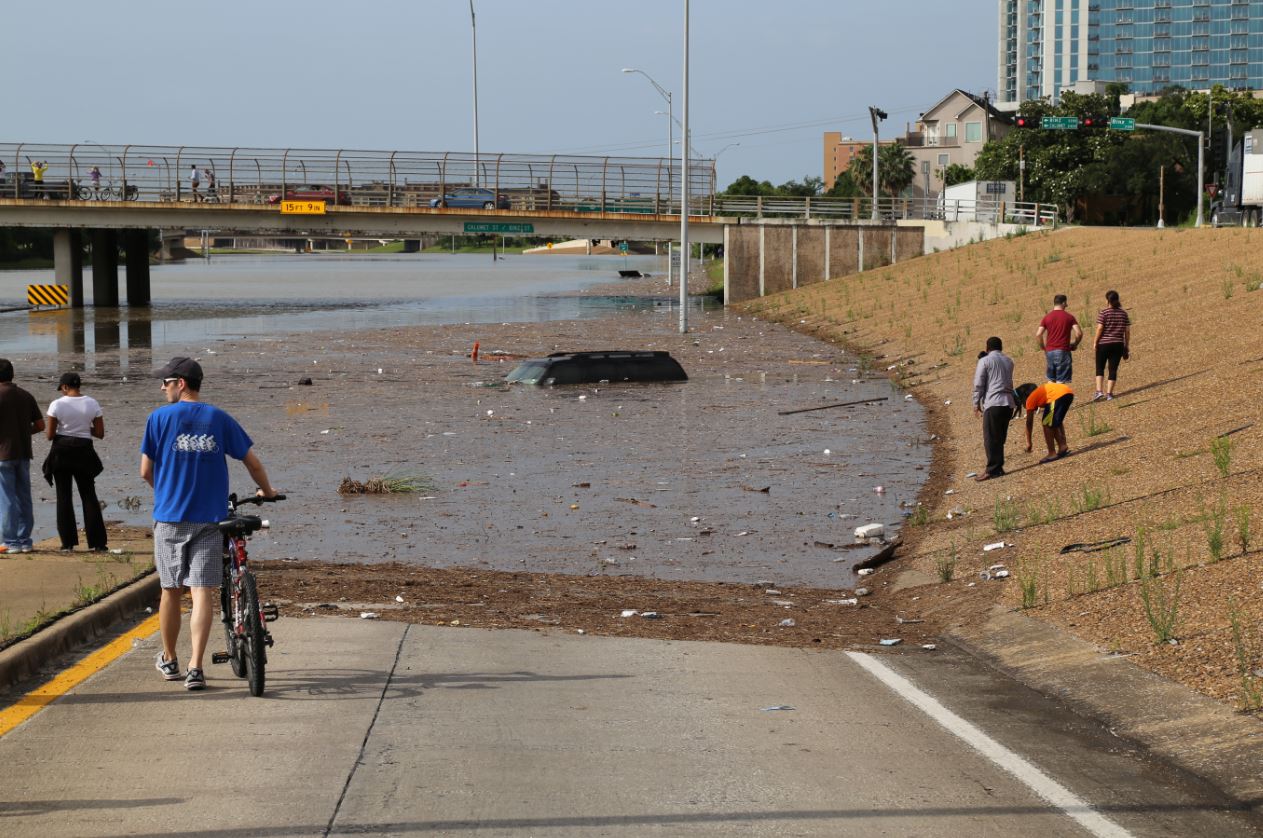 Flooding on Highway 288 at Southmore on Tuesday, May 26, 2015
The death toll in the wake of Tuesday's severe flooding across Greater Houston has increased.
Alice Tovar, an elderly woman who was reported missing during the storm, was found Wednesday in a rural area near Rosenburg in Fort Bend County, her family said.
Earlier on Wednesday, Texas Department of Transportation recovery crews spotted a red Ford F-150 pickup truck that had been submerged at an entrance ramp in the 5100 block of the Westpark Tollway, Houston police said. The victim, identified only as a 31-year-old Hispanic man, was discovered at about 7 a.m. near the vehicle.
On Tuesday, one of the first victims reported was Nihad Jeries Konsul, 64, who was found inside a submerged white pickup truck at about 4:30 a.m. in the 5700 block of Ranchester in southwest Houston.
Then at 9:50 a.m. Tuesday another woman, Shirley Alter, 85, was found at 4300 South MacGregor Way in the Brays Bayou. She is believed to have been a passenger of an HFD boat rescue that capsized during high waters in the bayou.
At about 11:08 a.m. Tuesday, Christopher Nicholas Kirby, 35, was found in his SUV after the vehicle was towed out of high flood waters in the 2300 block of Lyons Avenue.
Anh Phan Nguyen, 50, was found dead at 3 p.m. Tuesday in Brays Bayou at Holcomb Boulevard near the Texas Medical Center. He is believed to be another passenger that was on the evacuation boat when it capsized, city officials said.
There is one victim of the flooding who is still unaccounted for at the time, according to the City of Houston.
Zoom in or out on map to see where flood fatalities happened:
Another death reported is associated with, but not directly caused, by the flood event. The 65-year-old man, identified as Dennis Lee Callahan, was found in the 1400 block of West Loop South Monday at 10:33 p.m. He died of what is believed to be a heart attack after helping a stranded motorist push a stalled vehicle during the flood, city officials said.
Texas Gov. Gregg Abbott declared a state of disaster for Harris County Tuesday, adding it to 45-plus counties in Texas with that designation.
The city says damage assessment is ongoing, but there is an estimated 1400 structures impacted. Residents are asked to call Houston 311 to report flooding in order for damage assessment teams to accurately understand the extent of damage.
Continued rainfall Wednesday morning brought even more worries. Thunderstorms that moved into the region Wednesday morning prompted Tomball ISD to close all of its schools, while some other school districts delayed opening. Classes began an hour late in Magnolia ISD and two hours late in Montgomery ISD, Tomball ISD and Cleveland ISD. Liberty High School in HISD was closed for the day, but all other schools in the district opened as normal.
A 30-percent rain chance in the afternoon dropped to 20-percent chance for showers and thunderstorms for Wednesday evening. The day was expected to be partly cloudy with highs in the upper 80s.
Houston TranStar listed ten high water locations Wednesday morning. Click here to get the latest update.
Images from Tuesday: