You may have noticed something different this holiday weekend: dozens of highway signs all over town are flashing directions to the George R. Brown Convention Center for Comicpalooza. It's a new benchmark for the event – the first time Texas' biggest comic and pop culture convention, or comic-con, has been big enough to merit such treatment.
If you've never been to a comic-con the size of Comicpalooza, you need to brace yourself for something approaching sensory overload. There are the speakers blasting music and sound effects from video games. The smells of hamburgers and pizza. And the sights of hundreds of people walking around dressed in costume — ranging from store-bought superhero and video game character outfits to elaborate homemade productions.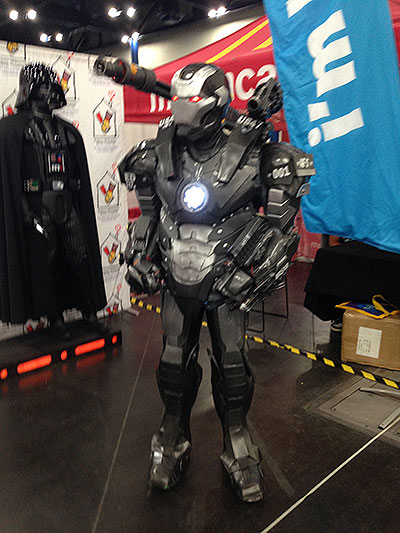 Hunter Garcia in his War Machine armor
Hunter Garcia is wearing a black and silver suit of high-tech armor, with what looks like a machine gun mounted on one shoulder and a cannon on the other. He's dressed up as War Machine, a character played Terrence Howard and Don Cheadle in the Iron Man movies. It took him almost a year to build.
Schneider: "How much of this is actually functional electronics?
Garcia: "A lot of it. Most of the guns and the noise are pretty functional."
Every so often, one of the guns on Garcia's shoulders moves. People are lining up to get their photo taken with him. And that's the idea. Garcia is a volunteer with Ronald McDonald House Charities of Greater Houston/ Galveston. Tanya Gee is the group's executive director.
"Hunter has been a big help right now doing cosplay with a purpose, going around and drumming up business, taking pictures for a donation for us," Gee says. "Cosplay is where you pick your favorite character's costume, dress up, and you become that person."
Another of the big draws at any comic-con is the guests. Visitors will line up, in some cases for blocks, to get an autograph or a photo with their favorite star. This year the guest list includes Jeremy Renner and Cobie Smulders, stars of the Avengers movie franchise. But it also includes some pop culture icons you might not expect to see. People like Henry Winkler, best known as "the Fonz" from Happy Days — at least, to my generation.
"These are amazing events," Winkler says. "People come to the table. Some of them are there because of Fonzie. Kids come, and they go, 'You were in Click?' 'You were in Holes?' Another whole group come, and they just know me as the writer of the Hank Zipzer series [of children's books]. And it's just one of the great compliments of my life."
Another of this year's guests is Joel Hodgson, creator of Mystery Science Theater 3000 and the host of the show for five years. His character, Joel Robinson, was trapped in space with a pair of wisecracking robots and forced to watch some of the worst movies ever made. These days, he works as a creative advisor to Cannae LLC, an aerospace company that makes engines for real spacecraft and satellites. Over the past year, he's become a regular on the comic-con circuit.
"I really love it," Hodgson says. "It's really fun, and I've met so many people and heard so many stories about, you know, Mystery Science Theater, like what it means these people, and that's been really useful to me and really great."
When Comicpalooza got started less than ten years ago, it took up just a few tables in the lobby of a movie theater showing The Dark Knight. This year, it takes up every square inch of the George R. Brown Convention Center, and it's still hoping to expand. Next year, the organizers are looking at the possibility of spreading across the street onto Discovery Green.