Updated at 1:50 p.m.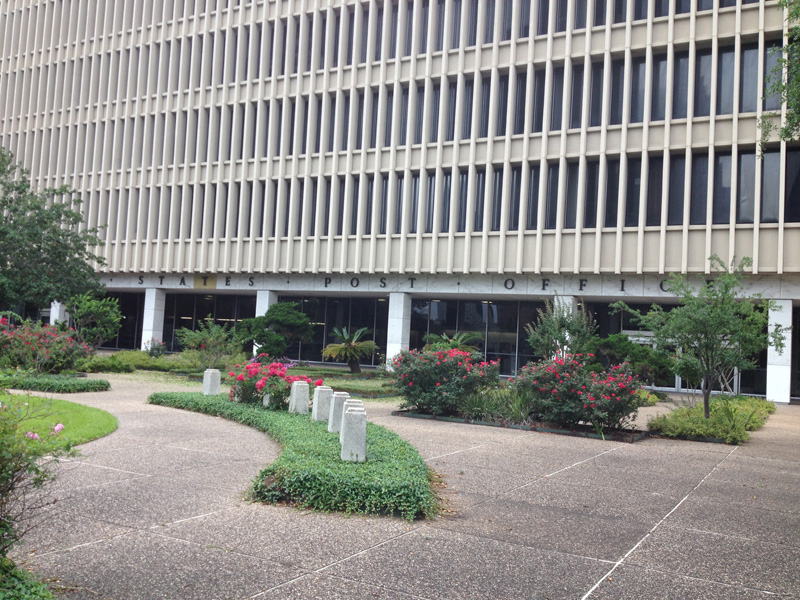 The Houston Post Office Downtown closed its doors on May 15, 2015
The Houston Main Post Office on Franklin Street, which also serves as a mail processing center, is one of 82 being closed this year to cut $20 billion from the postal service budget.
The closures here in Houston, and across the country, represent more than a quarter of the post office's processing centers.
June Cordes stopped to go inside to mail some packages. She didn't realize that Friday was the last day she would be using the main post office.
"That's really sad, that's bad. I mean, bad for me, because I like it, I'm always here. I come here a lot," said Cordes.
Jesse Guerrero spent almost 40 years as a Houston Postal Service employee. He came to say goodbye to some of his friends.
"Just a lot of great people working the graveyard shift," said Guerrero. "We had over 2,000 people working here at night, sorting millions of pieces of mail. I'm retired now, but it still brings back a lot of good memories. I roped on the crabs and went into management, retired eight years ago and it's just been a great life."
McKinney Boyd with the United States Postal Service declined to be interviewed, but read from a prepared statement on what's going to happen on Monday.
"Retail operations at the Houston Main Post Office, will be relocated to the Sam Houston Station, which is located at 1500 Hadley Street," said Boyd.
Built in 1962, The Franklin Street post office was designed by the same architects who did the Houston Astrodome. In 1984 it was renamed for Congresswoman Barbara Jordan. The future of the property has not been determined.
"It's an amazing opportunity. It's been an under-utilized asset and it could be used for multi-family, office, transit and services, with a view of downtown, and a terrific asset to all of Houston," said Laura Van Ness who heads business development for Central Houston, a nonprofit that works on downtown's revitalization.
Several attempts at finding a buyer for the property have fallen through, according to the Houston Chronicle.
Mayor Annise Parker wrote in a letter to council members this week that the city has withdrawn from bidding on the downtown post office.