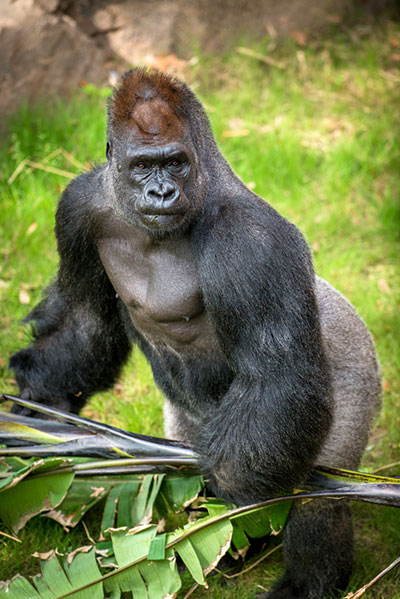 Zuri, a male western lowland gorilla © Houston Zoo/Stephanie Adams
The lush green enclosure houses seven gorillas, a family of four and another group of three males. Upon entering, visitors are greeted by three red river hogs, another native African species.
Zookeeper Kim Seigl says the animals share the same natural habitat as gorillas.
"We thought it would be really just an interesting exhibit, a new mix of animals," Seigl says. "We're the first zoo in the world that's tried these two species together, but we think they'll do really well, and so far they have been."
The gorillas can be seen roaming around, climbing trees and foraging for food.
It's been 11 years since the Houston Zoo has housed the animals. Primate supervisor Jill Moyse hopes bringing them back will raise awareness of their declining populations.
Much of the animals' natural habitat is being destroyed to mine for coltan. The mineral found in African forests is used to manufacture cell phones.
Moyse says there are some steps people can take to help conserve the land.
"Just simply by recycling your cell phone, they can reuse that element so that they don't have to take it out of the ground," Moyse says.
The new exhibit opens Friday, May 22.