When Cody Wilson published online blueprints for a 3-D printed pistol two years ago, they were downloaded an estimated 100,000 times in two days. The State Department then told Wilson to take the plans down while deciding whether or not he needed a license to share them.
Wilson has now filed suit against the federal government.
"This case is about speech primarily, and here, the government's trying to censor speech they consider unpopular," says Josh Blackman, Wilson's attorney.
University of Houston law professor Peter Linzer says Blackman makes a strong case on the basis of free speech, but he says the legal issue of publishing the blueprints online is complicated. That gives anyone in the world access to American weapons.
The State Department typically requires a license to export arms under the International Traffic in Arms Regulations.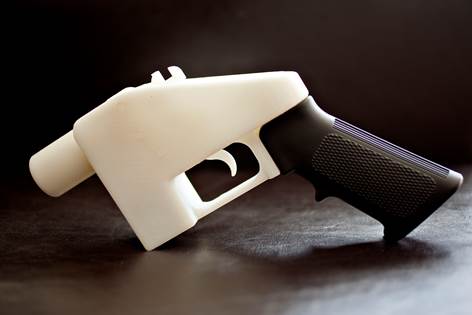 3-D gun. Photo credit: Defense Distributed
"They want to be able to send this information on the internet where it will go to overseas, and the State Department is saying, 'You can't do that without a license from us and we're not giving it to you,'" Linzer says.
Wilson's attorneys are currently waiting for a response from the federal government.
Linzer says legally, the case is a tough call.
"I think it's a close question," he says. "I wouldn't think their complaint would be dismissed, but I don't also think that they've got a clear winner."