The Uptown Houston Management District wants to build dedicated bus lanes in the middle of Post Oak Boulevard. The project is expected to cost about $200 million. The money comes from several sources including the local tax reinvestment zone.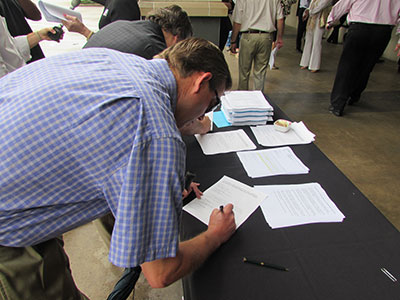 Post Oak residents and business owners sign a petition against the Uptown Bus Rapid Transit project.
The project also includes bus lanes along the 610 West Loop that would bring riders in from nearby transit centers. But some Post Oak business owners want to know if there will actually be enough riders to justify the system. They also worry about signal timing for the buses and whether customers will have a problem accessing local businesses.
Russell Masraff owns Masraff's Restaurant on Post Oak. He wants the city to halt the project until the neighborhood gets more information.
"I've worked too hard to build a business, as has my father, to have individuals come across in what they think could work, and jeopardize my business and my 80 employees," Masraff says.
But Uptown Houston President John Breeding says they've identified about 65,000 workers who could potentially use the system and that would help alleviate some big traffic problems.
"We'll be taking people not only off of Post Oak Boulevard, but we'll be taking people off the West Loop, we'll be taking people off Westheimer, West Alabama, and San Felipe," says Breeding.
Plans call for construction to begin in 2016 and the buses to start rolling in 2018.