The debate around the Texas school finance system often centers on tax rates, revenue and school districts.
But when state District Judge John Dietz declared the system unconstitutional and issued his nearly 400-page explanation in 2014, he included the experience of one mom from Pasadena as evidence that the system is failing students.
Consider her story and the story of another mom in Greater Houston.
Ten years ago, Yolanda Robertson left her hometown of Pasadena and its refineries just east of Houston.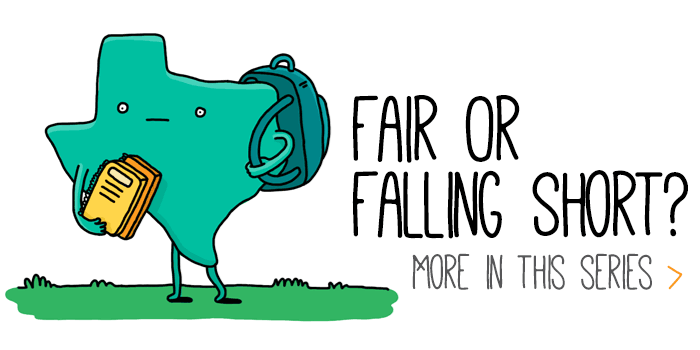 She moved her family about 15 miles south to a wealthier, suburban community. She immediately saw a difference in the schools.
"I actually loved the schools in Clear Creek ISD," Robertson said in an interview.
"They had a lot more to offer. The class sizes were smaller. It seemed that they just put more focus on the students."
She pointed to her oldest daughter Victoria, who was starting intermediate school when they moved.
She hadn't been exposed to after-school activities before. In the Clear Creek Independent School District, she got involved in dance.
Instead of watching videos, she dissected animals herself in science class. While her previous teachers had criticized her for being tardy, her new teachers gave Victoria extra tutoring before and after school to catch up on academics.
Her other children had similar positive experiences.
"It just felt good that the teachers actually cared. I mean, they were willing to help with anything they needed to help with," Robertson said.
Then the Great Recession hit, her job in real estate suffered, and her marriage fell apart.
Robertson moved with her two daughters and young son back to Pasadena and the property-poor school district there.
"It wasn't a pleasant experience because I had already seen what I had experienced at the other school district. I felt that the girls were getting cheated on what the opportunities were for them," she said.
Back in Pasadena, her daughters struggled.
The oldest, Victoria, finished high school and tried community college. But she failed some classes and hasn't gone back.
Her second daughter, Erica, often complained that there weren't enough books to take home and study. She earned her high school diploma because Robertson paid for extra night school.
Robertson shared her family's story in the latest school finance trial. While more than one hundred people took the witness stand, she was one of only a few parents to testify.
Robertson, whose last name at the time was Canales, told the court what she wanted out of the lawsuit: "I just want fairness, equal opportunities for my children as well, regardless of the neighborhood that we live in."
"She has seen how the grass on the other side really is greener," said David Hinojosa, who represented Robertson for the Mexican American Legal Defense and Educational Fund, or MALDEF. He is now the national director of policy at IDRA.
Hinojosa said MALDEF made an effort to bring parent plaintiffs back to Texas school finance litigation. Recent cases have been led by school districts, but he believes that parents' opinions are important to consider and different than those of a superintendent or teacher.
He said Robertson's story reflects other families' situations.
"They have the same struggles with their children in the schools in not having access to the opportunities they need to not just achieve the state's standards but achieve their potential," Hinojosa said.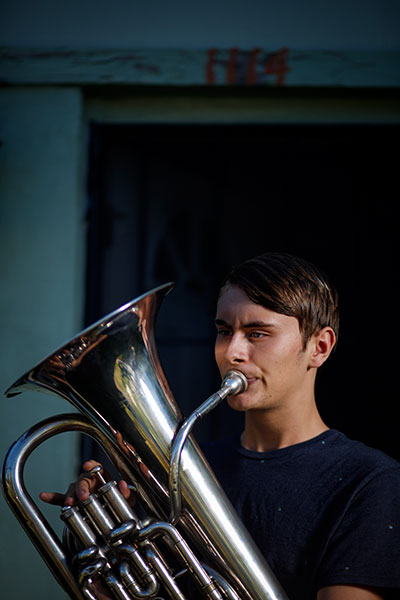 Toby Wick plays a brass instrument called the euphonium in the marching band at The Woodlands High School. He said many parents in the affluent suburb are able to support the band with donations and also volunteer hours. Photographer: Eric Kayne
Just east of downtown Houston, another family has found an interesting solution.
On a recent Saturday, tenth grader Toby Wick practiced for band at his mom's house.
There's a public high school just around the corner.
But Toby attends The Woodlands High School 40 miles away where his dad lives.
One reason why Toby goes there is the marching band, which has won national awards.
His mom Tracy Morris said the school has even more to offer.
"Things like science labs, pretty strong computer literacy, really vamped up library and pretty much the best of everything," Morris said. "It's almost like the difference between a private and a public school education."
When Morris researched the two schools, she saw The Woodlands had a better graduation rate.
But she didn't know exactly how much each school received in funding.
According to data from the Texas Education Agency for 2014-15, on average the Houston Independent School District raised about $5,100 per student from property taxes.
The Conroe Independent School District raised slightly more than that, almost $5,300. But it allocates even more to The Woodlands High School: about $5,500 per student, or about $400 more per student. (That gap is projected to continue next school year in 2015-16.)
"That's why I'm willing to have my son live 40 miles away from me," Morris said on learning the difference.
She said she can't afford to move to the affluent suburb of The Woodlands herself.
Instead, she spends time with her son on the weekends.
"This is the way that we have decided he's going to be able to achieve the most that he can from public education. We're really lucky that we get to do that. We know not everybody gets to do that," Morris said.
This story was informed by sources in Houston Public Media's Public Insight Network ®. To become a news source or share your expertise, go to www.houstonpublicmedia.org/pin.
Support for this series was provided by "The Equity Reporting Project: Restoring the Promise of Education," which was developed by Renaissance Journalism with funding from the Ford Foundation.