To search for a school district or charter school, type in the name. For example, for the Houston Independent School District, type Houston ISD or just Houston.
Data Explainer:
* Total weighted student enrollment is the 2015-16 school year enrollment for students. It applies additional education weights, such as bilingual education, gifted and talented and special education.
* Revenue for day-today school operations pays for things like teacher salaries, classrooms, buses, etc. This is for 2015-16 and is also called the maintenance and operation revenue.
* Revenue per weighted student is the funding level per weighted student for 2015-16. It accounts for individualized funding needs based on student characteristics, such as bilingual education, special needs and gifted and talented students.
* 2014 tax rates are the adopted rates for 2014 for school maintenance and operations, or the M&O tax rate. The state limits M&O taxes to $1.17 per $100 of taxable value. The revenue generated by this tax pays for the administration and operation costs of schools. For a complete glossary to Texas school finance terms, visit the Equity Center here.
Source: Legislative Budget Board, Texas Comptroller's Office
Data collected by Laura Isensee and data visualization created by Valerie Lawhorn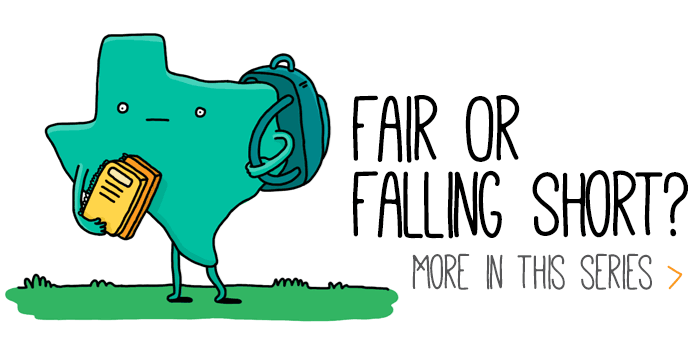 Support for this series was provided by "The Equity Reporting Project: Restoring the Promise of Education," which was developed by Renaissance Journalism with funding from the Ford Foundation.