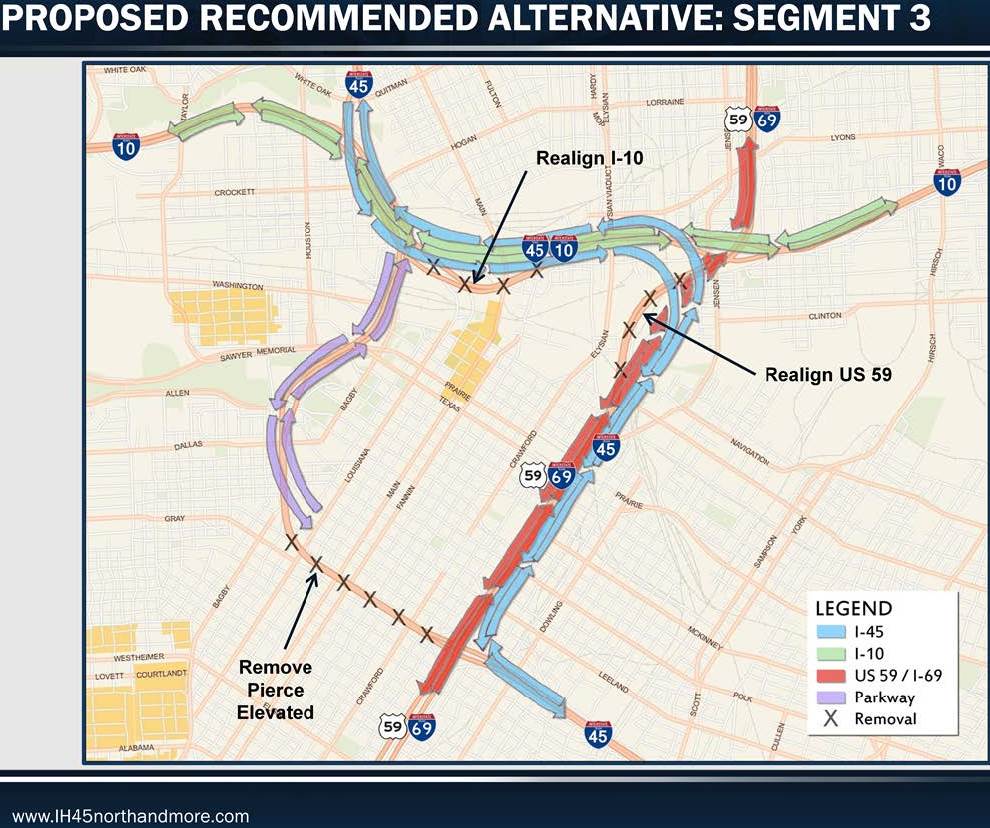 Above is a diagram of TXDOT's proposal to reroute freeways through downtown Houston.
A series of public meetings begins Thursday night on plans to redesign I-45 between Beltway 8 North and downtown Houston. The biggest changes are planned for downtown Houston, where TxDOT is considering tearing down the Pierce Elevated and realigning the freeway.
Plans unveiled online – and which can be read below – divide the project into three segments. There would be managed lanes between the Beltway and I-10, along with new frontage road lanes and a bike trail.
Initial designs were rolled out at public meetings in November 2013. TxDOT's Danny Perez said the goal is to increase capacity on the North Freeway without tearing through surrounding neighborhoods.
At that meeting, we spoke to several northside residents. Some said the improvements were long overdue. Others were disappointed TxDOT rejected earlier plans to route some of the North Freeway through underground tunnels.
The project is still a few years away. TxDOT says it plans to present the results of an environmental study in early 2016.
A new round of public meetings begin Thursday night at Aldine 9th Grade School in north Houston. It's from 5:30-7:30 PM. Click here to learn more about the project and to see a full schedule of public meetings.
TxDOT Report: North Houston Highway Improvement Project
TXDOT Presentation English (PDF)