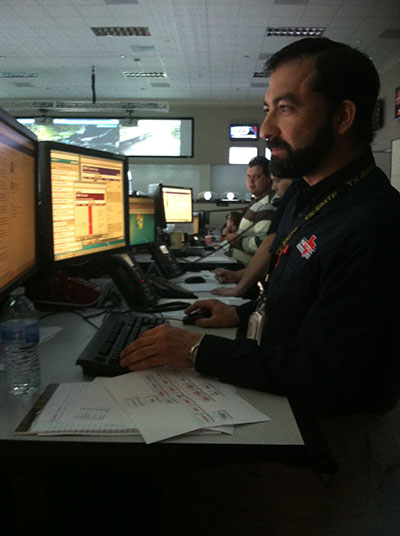 Representatives of healthcare agencies coordinate medical response during a simulated emergency.
At the Houston TranStar office, about 30 representatives of healthcare agencies are typing away at their computers. They listen for updates as they coordinate medical response.
It's part of an annual drill led by the Southeast Texas Regional Advisory Council, or SETRAC. It tests emergency healthcare response in 25 counties between more than 160 hospitals.
SETRAC director Lori Upton says the exercise helps crews prepare for a possible hurricane.
"What you're seeing here today is our Catastrophic Medical Operations Center which provides the medical coordination and support for all of those healthcare agencies," Upton says.
Upton says response can get complicated. For example, they may have to evacuate a hospital, matching each patient with another place that can give them the care they need.
"If we can learn our lessons here in a safe environment, when and if that event should ever occur, we're that much better prepared," she says.
SETRAC tries to do a different type of drill each year. This week, the team is responding to a simulated explosion at a public venue.