Rebecca Bass doesn't give herself enough credit.
"Really all I do is clean up," she says with a laugh as she darts back and forth under the white awning set up in the back of Reagan High School's campus. It's an overcast, misty March afternoon and she's showing a small group of teenage students how to build an art car for this year's Art Car Parade.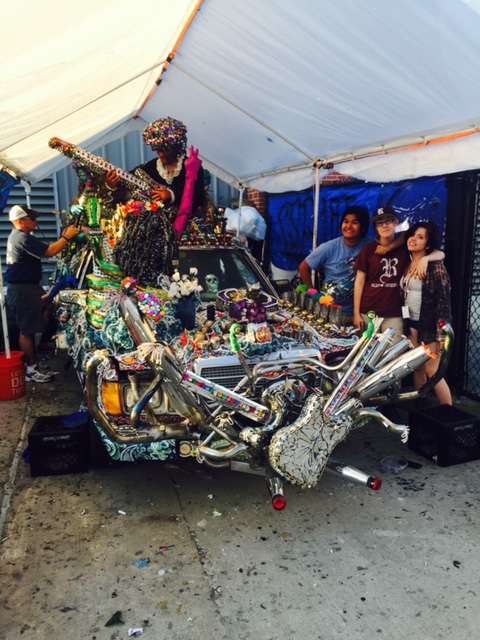 In all its psychedelic splendor, the Jimi Hendrix tribute is nearly complete. Photo by: Rebecca Bass
Bass is no stranger to the parade. She's taken part in it for about 25 years. This year is different, however. It's the first time HISD has ever hired a part-time teacher just to do an art car with the kids.
And this car is obviously meant to rock, judging by the fact that they're calling it Electric Ladyland, after the 1968 Jimi Hendrix album. Even though it's been almost 50 years since it came out, most of these kids really dig the music. In fact, it's one of the things that attracted Mark Flores, who's a junior. "So when I heard that it was going to be about Jimi Hendrix, that was another reason that kept me here," Flores said.
The asphalt surrounding the canopy where they're working is covered in what looks like a thin layer of snow, but it's actually tiny flakes of Styrofoam. It's one of the main materials used to make the sculptures that'll transform the dilapidated 1981 Mercedes Benz into a psychedelic wonderland.
At the hood of the car, Alexis Caradine (senior) and Noelle Riall (freshman) are using tools that look like hand-held cheese graters to shape the Styrofoam. Alexis has shoulder-length dark blonde hair, dyed violet on the ends. She also wears a fox tail on the back of her jeans.
"So, because I wear a fox tail, Ms. Bass thought it'd be funny to put me in charge of Foxy Lady and we're also working on getting her an actual fox tail to have flying around in the wind during the parade," Caradine said.
Everyone in the group says one of the coolest things they've learned so far is welding. Alberto Herrera, a junior, is one of them. "I'm about to weld these little rods onto the car," he says before lowering his mask over his face again. Once those rods are in place on the sides of the car, they'll hold giant Styrofoam guitars.
Then there's Juan Sanchez, who has a big role when Electric Ladyland cruises down Allen Parkway on Saturday. The high school junior will be sitting in what used to be the trunk of the car, playing Jimi Hendrix songs on his electric guitar.
Sanchez says his parents are totally supportive of him taking part in the project. "They actually think it's really cool that I'm actually doing something that's not staying at home, like what I usually do. I'm actually going out and doing something creative and something that's actually not just doing nothing but playing guitar," he said, grinning.
But Bass knows there's more than just a car that's being built under this tent. They're building team working skills. Confidence. Friendships.
"A lot of students have not your regular family situation… They may not have everybody there. But here, it's very accepting and supportive and it's really the kids that aren't in sports or band or anything else. They're just kinda looking for a place to be important. And this is perfect."
Electric Ladyland makes its big debut when it cruises down Allen Parkway in the 28th annual Art Car Parade this weekend.