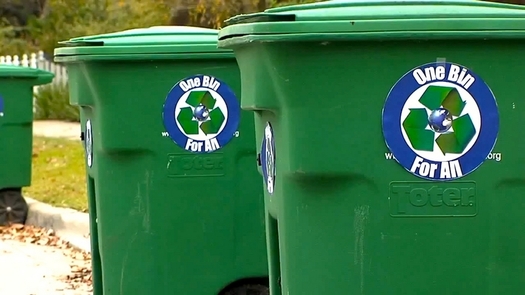 One Bin for All would let Houstonians throw their garbage and recyclables in the same bin, to be separated later.
Last summer, the city announced five companies are bidding for a contract to develop the waste management facility where this would happen.
But almost a year later, the bidding process is still ongoing. The Houston Chronicle now reports some of the bidders have questioned the project's feasibility.
Mayor Annise Parker is not concerned.
"We're not in a hurry," she said. "There's no timeline that's driving us."
Janice Evans, the mayor's chief policy officer, acknowledged the process is taking longer than expected because "it's a complicated project."
But Parker said something will happen while she is still mayor.
"I'm not going to leave this to the next mayor," she said. "But is it going to be next week? No. Is it going to be a month from now? Maybe. They're still in the review process."
In March 2013, the city received $1 million for the project by the Bloomberg Philanthropies Mayor's Challenge.
But some environmentalist groups oppose the idea, in part because they say recyclables are contaminated when they are thrown in the same bin with diapers and other dirty trash.