About 200 students and faculty members pack the conference center at Lone Star's Cy-Fair campus. They're here to discuss the possibility of allowing guns on campus, and opinions are mixed.
Adjunct professor Lori Fortner says allowing guns would make her uncomfortable, especially after the college saw two violent incidents in 2013.
"There's no reason to have any weapons of any kind on this campus," Fortner says.
Right now, concealed handgun license holders can't legally carry their weapons on campus, but a bill making its way through the Texas Legislature could repeal that law. Some, like student Andrew Knize, say guns would offer added protection in an emergency.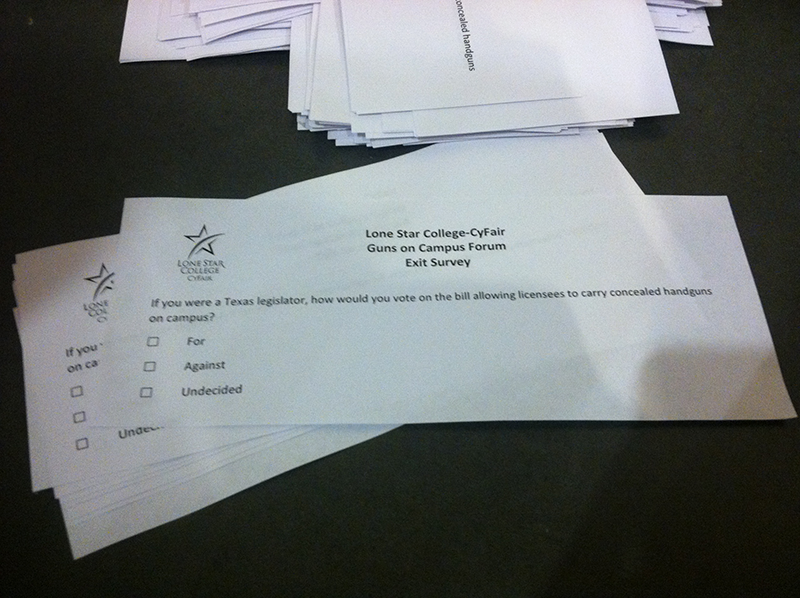 Click to enlarge After the panel, students took part in a poll expressing their views on campus carry.
"I see the potential danger, but I see the potential good that can come out of it," Knize says.
Still others, like student Franco Rosales, have yet to take a stance. Rosales says guns could offer protection, but they could also escalate a dangerous situation.
"Me personally, I'm in the middle," he says. "I can definitely see from both sides of the argument."
The group plans to share its findings with the Lone Star College System Board and with elected officials.