Next time you take out the trash, think about where it goes. Don't know?
Well, if you are Paloma Gonzalez, you know exactly where garbage goes. What seems like a nearly non-stop flow of trucks brings garbage to a gigantic landfill just east of Bush Intercontinental Airport and less than a mile from Paloma Gonzalez's subdivision.
She says in the eight years she's lived here, the mountain of garbage has grown and grown. And on a hot summer day, she says the odor is unmistakable.
"Sometimes the odor is so strong even when you have the central air conditioner working, the odors start coming inside the house," Gonzalez said.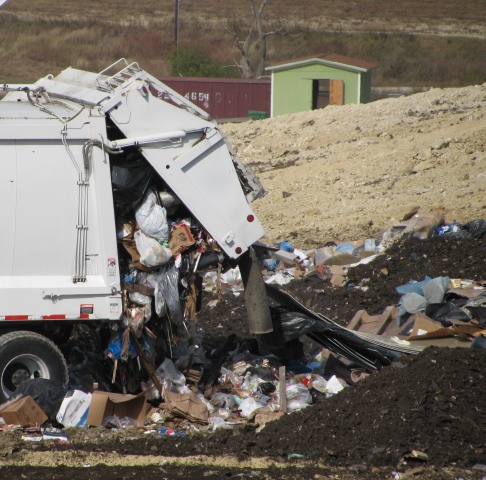 Advocates for recycling want to reduce toxic wastes that end up in Texas landfills
So piles of garbage smell. Not surprising. But it's not the odors rising up from landfills, but rather what's happening beneath that's causing concern statewide.
"Fifty-five of them are leaking," said Smitty Smith, one of the state's leading environmentalists and Texas director of an industry watchdog group, Public Citizen (see list in TCEQ report below).
Smith gave testimony last month to state lawmakers who are considering a number of bills related to regulating landfills.
"When you look down the list of what's leaking, it's a witch's brew of toxic chemicals that are getting into our water supplies," Smith said.
In response to our questions, the Texas Commission on Environmental Quality confirms that five of the leaking landfills are in the Houston area including the one near Intercontinental Airport (see document below).
It's run by Houston-based Waste Management. In an emailed response, Waste Management said contamination had not reached any public groundwater and was not detected as migrating off-site.
But there have been other cases over the years involving other landfills in Houston where contamination did threaten groundwater. But threaten it with what?
The landfills we're talking about are mostly for household garbage, not hazardous industrial waste. And in any case, aren't landfills supposed to be lined with thick plastic to prevent them from leaking into groundwater?
Steve Hupp investigated leaking landfills when he worked for Harris County Pollution Control. He's now with the Bayou Preservation Association. Hupp told News 88.7 that safeguards like liners can sometimes tear and when they do, the polluted liquids can seep into shallow groundwater, water which is sometimes used for drinking by individuals with water wells. Hupp said the contaminated water can move well beyond the immediate area.
"Into the water bodies, our bayous, our streams, out into Galveston Bay," Hupp said.
Yet, even if the tainted water migrated into streams, how bad would it be if the pollution is from household garbage?
Plenty bad said Hupp, "You've got your cleaners, you've got your solvents, you've got your batteries. There're a variety of things that are considered household hazardous waste."
That's why advocates for recycling say the way to reduce the risk to groundwater is to reduce what we throw away.
"Think about the things you throw away into your garbage bin," said Melanie Scruggs, a community organizer with Texas Campaign for the Environment.
"We're talking compact fluorescent lightbulbs that contain mercury and other toxic chemicals, batteries, electronics," Scruggs said.
But convincing policymakers to encourage recycling can be a tough sell in Texas where there's lots of land which makes it cheap to just bury garbage.
"In Harris County, take the City of Houston, we only pay about 24 dollars per ton to throw trash in a landfill. Up in the Northeast and in parts of California they're paying up to 80 dollars per ton," Scruggs said.
Which means other states have an incentive to do more recycling. Florida recycles nearly half its garbage. The city of Houston? Less than a quarter.
But environmentalists say while Houston doesn't have to pay much to bury garbage, it might still be paying a price if landfills leak.
2014 TCEQ Leaking Landfills
2014 TCEQ Leaking Landfills (PDF)
2014 TCEQ Leaking Landfills (Text)
TCEQ info on Landfills in Houston Area
TCEQ info on Landfills in Houston Area (PDF)
TCEQ info on Landfills in Houston Area (Text)