"You'd be surprised how easy it is for us to talk somebody through how to get an animal to us over the phone," Ranck says.
Sharon Schmalz adds that not all animals need to be brought in. If it's not injured, she says to wait a couple hours to see if the parents return. If you're not sure what to do, you can always call the Wildlife Center.
Schmalz thinks of the center as a hospital, a place for animals to rest and recover. But ultimately, she wants to get them back into the wild.
"We try to re-nest them, and we actually have a couple locations right now where we gave people laundry baskets and we put some twigs in there and put the babies in there and hang them back up in the tree," Schmalz says. "90 percent of the time, mom will come back and feed them. That instinct to want to care for their young is very strong."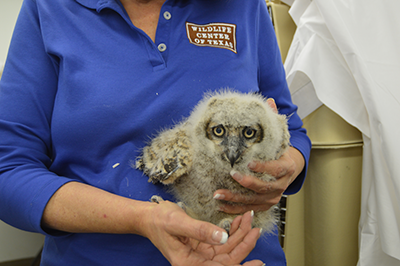 Photo credit: Houston SPCA
Schmalz says rescuing an animal can be a transformative experience. Thirty years ago, she found a baby bird in her backyard after a storm and began caring for it. Eventually, she left her computer science job to work in wildlife rehabilitation. She says when people bring in baby animals this time of year, it takes her back to that moment.
"We get over 9,000 animals a year here," Schmalz says. "I never want to feel like I'm getting hardened to it when people come in, because to them that's the only animal they've ever found, and they're excited and they want to care for it."
The Wildlife Center currently has 600 volunteers, and they're recruiting even more to help them through this busy season.