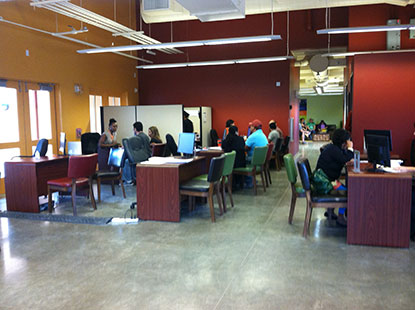 "Inside the Baker Ripley Center
About 30 people fill the waiting room of the Baker Ripley Neighborhood Center in Southwest Houston. They're here to get a little help filing their taxes. Katherine Beckner runs the center's free tax prep service. She's had to tell many people that they'll face a fine if they didn't get health coverage in 2014.
"A lot of people thought, 'oh I don't need insurance,' or 'it's too expensive,' or they had so many problems getting into the Marketplace that they just gave up," says Beckner.
This year, the penalty is $95 per person or one percent of your household income, whichever is higher. Next year, those fines will double. But the deadline for the Affordable Care Act has recently been extended. So when Beckner meets with someone who doesn't have insurance, she sends them to Leticia Chaw. She's an Affordable Care Act navigator who works at the center.
"My goal is to make sure that people understand that it's not too late," says Chaw. "They have until April 30 to obtain insurance."
People who get coverage now will only face a partial penalty next tax season.