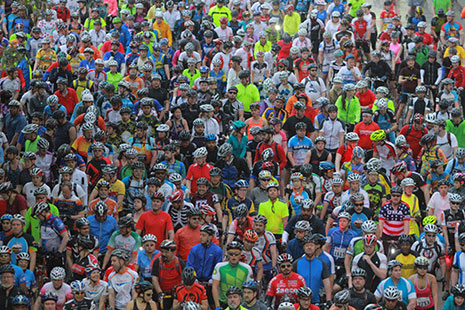 A crowd awaiting the Tour de Houston 2014 start. Photo credit Richard J. Carson/Donna Carson
The Tour de Houston is now in its tenth year, and it features three different routes through the city's neighborhoods. Those routes are 20, 40, and 60 miles.
Cyclist Mike Yates has taken part in many of those events, and he says the Tour de Houston is a good opportunity for novice riders to get accustomed to riding with big groups. Yates says if you're a first-time participant, the biggest thing you need to remember is to leave plenty of space between you and the other riders.
"One of the major causes of accidents is if you get too close and clip the wheels of the person in front of you. It's the person in the back who's going to fall not the person in the front," explains Yates.
And it's also important to keep in mind that it's not a race.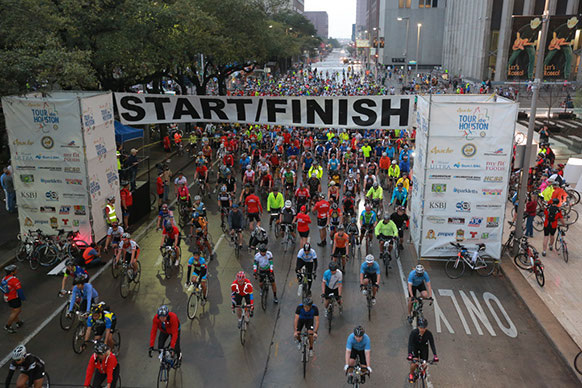 2014 Tour de Houston riders at the starting line. Photo credit Richard J. Carson/Donna Carson
"It's a recreational ride. It's a challenge, it's not a race. There's no prize for who gets in first. And there really isn't a place in this kind of event for competitive behavior," says Yates.
The Tour de Houston kicks off at 7:30 Sunday morning at Houston City Hall. It's part of the mayor's "Wellness Weekend" which also includes 10K and 5K runs on Saturday. Proceeds benefit the city's tree-planting efforts.