Some local students have been hard at work building their own cars. They'll now compete against students from across the Americas to see who gets the most miles-per-gallon.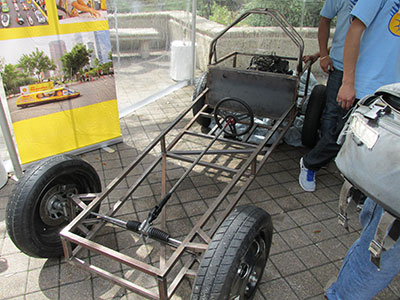 Elsik High School's entry in the Shell Eco-Marathon features a small diesel engine.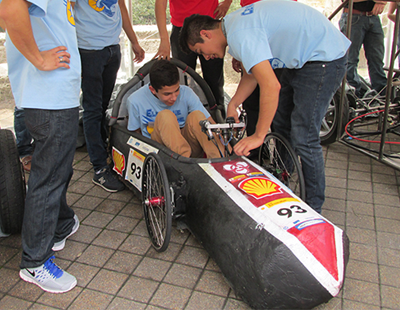 Elsik High School students check out last year's entry from the University of Houston.
At an event at Houston City Hall, Elsik High School showed off their entry. It's a stripped down vehicle with a small diesel motor, and while it's low on comfort it's big on efficiency.
Elsik is one of six local high schools and colleges heading to Detroit next month for the Shell Eco-Marathon. Teams will vye for the title of most fuel-efficient vehicle.
Elsik's team leader is senior Jonathan Garcia. He says designing and building cars from scratch is a good lesson in teamwork.
"My contribution, my advice to all my team members is I try to get them up to par. Like whatever they didn't know I would help them," Garcia says.
The University of Houston is also competing. Team leader Roberto Guerra is hoping to improve on last year's design, a small gas powered vehicle built with bicycle parts.
"It's awesome because you're able to apply all the knowledge that you've learned in school and actually put it into a real-world project," Guerra says.
The competition is divided into the Prototype class, which focuses solely on fuel efficiency, while cars in the Urban Concept class will be judged on their practical design.