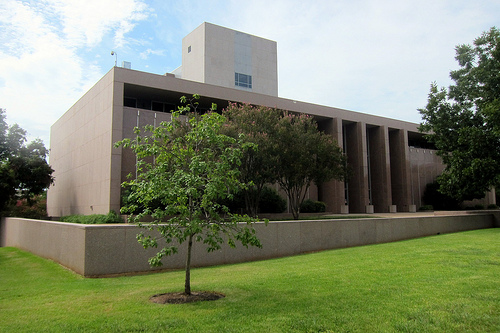 Image credit: Wally Gobetz/flickr image
The drainage fund is known as Rebuild Houston.
Voters approved its creation in 2010. As part of it, property owners pay a monthly fee for street and drainage repairs.
After the election, three property owners sued the city, alleging the ballot language was misleading.
Two lower courts have sided with the city, and the case has now landed in the state's highest court, where attorneys for both sides made their arguments before the nine justices.
First was Andy Taylor for the plaintiffs.
"The problem here is you can't tell when you go into the ballot box and say, I'm going to vote for this, that in fact you just opened up your pocket book and said, my property can be hit with this cost," Taylor said.
On the ballot, the proposed charter amendment known as Proposition 1 made no mention of a fee, other than saying it's a dedicated pay-as-you-go fund.
Robert Heath represented the City of Houston. He said newspaper postings and general media coverage on the proposition was sufficient to inform voters.
He acknowledged that probably not everyone paid attention.
"Just as when we assume or presume the people know the law, that people really don't know all the law," Heath said.
The Texas Supreme Court is expected to issue an opinion by this summer.