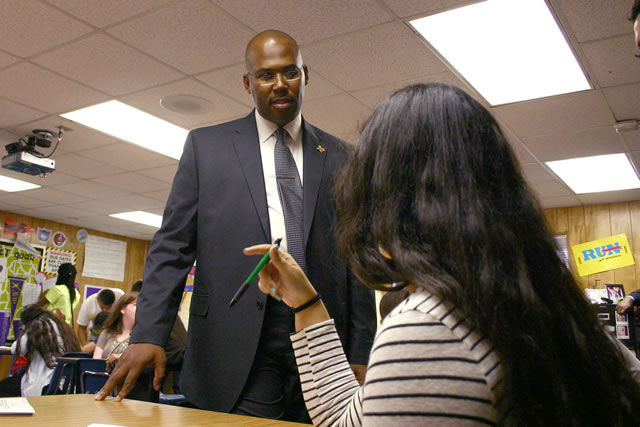 Superintendent Dr. Rodney Watson visits with a Spring ISD high school student on the first day of school. Photo courtesy of Spring ISD.
At a special meeting Sunday, school board members in Spring voted to fire three employees as a probe continues into how widespread transcript and testing errors put almost 600 seniors at risk of not graduating.
The internal probe began in January after state administrators spotted problems with student data.
Already several administrators with the Spring Independent School District had voluntarily resigned.
Now with the board's vote, three other school employees will lose their jobs.
Rodney Watson, the Spring ISD superintendent, recommended the board not renew their contracts.
They include the assistant superintendent who supervised Dekaney High School and another assistant superintendent who oversaw Westfield High School.
Spring ISD's chief of schools will continue to meet with parents and students this week to talk about the investigation and explain how the district is moving forward.
Those meetings are Thursday, Feb. 26 at Spring High for sophomores and Wednesday, March 4, at Westfield High for freshmen.