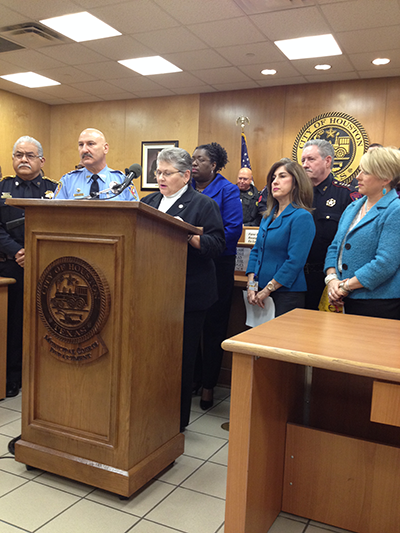 Director of Houston Municipal Courts Judge Barbara Hartle speaking at the podium.
More than 300 jurisdictions across the state will be taking part in this year's warrant round-up, beginning on Saturday, March 7. Neighboring jurisdictions joining as regional participants include Harris, Galveston, Fort Bend and Waller Counties.
"Our goal is to close cases, our goal is not to arrest people," said Judge Barbara Hartle, director of Houston Municipal Courts.
Judge Hartle said the round-up targets Class-C misdemeanors, like criminal trespass or disorderly conduct. But most of the estimated 300,000 offenders have unpaid traffic tickets.
"We want people to come in and resolve their cases. But if you don't do it, then be prepared that you're going to be subject to being arrested at places where you probably don't want to be arrested: on your way to work, on your way to school, on your way out with your families," Hartle said.
Judge Hartle said notices are being mailed to all Houston Municipal Court defendants with active warrants. People with warrants outside of Houston should contact those jurisdictions for information about how to clear outstanding warrants.
To pay your City of Houston ticket online, click here.