Turner released this campaign video today.
Sylvester Turner has been a state representative for 26 years. But he wants to be Houston mayor. He's tried twice before, once in 1991 when he lost to Bob Lanier. And again in 2003, when he came in third place behind Orlando Sanchez and winner Bill White.
"I think Sylvester Turner's hoping that the third time's the charm. And right now things are looking pretty good for him," said Mark Jones, Rice University's Political Science Chair.
Jones says Turner has been laying the groundwork for this campaign for more than a year and has the most support, at least until Harris County Sheriff Adrian Garcia decides whether to enter the race. But even as the candidate with the most early momentum, Jones says Turner won't win outright.
"The real race today, and up until November, will be to be in the top two, to finish first or second and earn one of those prize golden tickets to a December run-off," Jones said.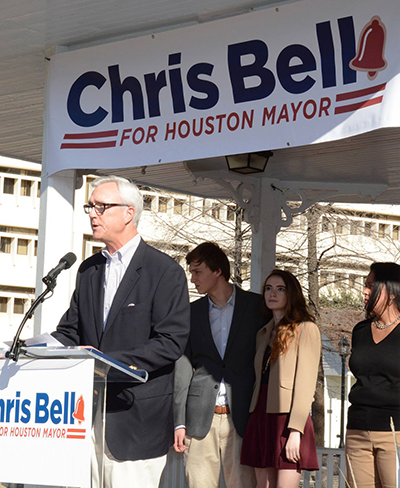 Chris Bell announces he's running for Houston mayor. From Bell's Facebook page
The mayoral field will be crowded. Former Congressman Chris Bell has already announced his candidacy. City Councilmembers Stephen Costello and Oliver Pennington are expected to announce and former City Attorney Ben Hall will try again after losing the 2013 race to current Mayor Annise Parker.