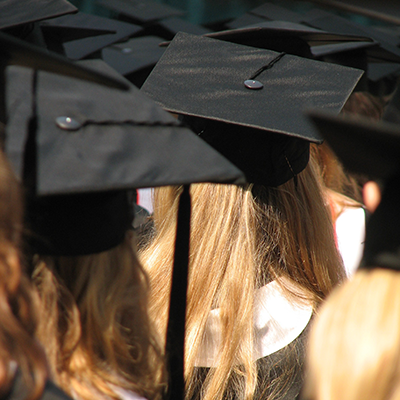 More American students are graduating from high school than ever before, according to new data from the U.S. Department of Education.
While national graduation rates have hit an all-time high of 81 percent, in Texas students are doing even better.
Texas beat the national average with 88 percent of the Class of 2013 finishing high school on time.
That tied with Nebraska, New Jersey, North Dakota and Wisconsin for the second-highest rate in the country.
But the state with the best graduation rate is Iowa with 90 percent.
The District of Columbia has the lowest rate. There less than two thirds of students earn a high school diploma.
Public high school 4-year adjusted cohort graduation rate (ACGR) for the United States, the 50 states and the District of Columbia: School years 2010-11 to 2012-13
* The United States 4-year ACGR was estimated using both the reported 4-year ACGR data from reporting states and the District of Columbia and using imputed data for Idaho, Kentucky, and Oklahoma for school years 2010-11 and 2011-12, and imputed data for Idaho for school year 2012-13.
** School year 2011-12 data for California, Hawaii, and Missouri were revised subsequent to the publication of these data in NCES 2014-391. The estimated United States ACGR includes these revisions.
*** The Department of Education's Office of Elementary and Secondary Education approved a timeline extension for these states to begin reporting 4-year ACGR data, resulting in the 4-year ACGR not being available in one or more of the school years shown.
NOTE: The 4-year ACGR is the number of students who graduate in 4 years with a regular high school diploma divided by the number of students who form the adjusted cohort for the graduating class. From the beginning of 9th grade (or the earliest high school grade), students who are entering that grade for the first time form a cohort that is "adjusted" by adding any students who subsequently transfer into the cohort and subtracting any students who subsequently transfer out, emigrate to another country, or die.
SOURCE: EDFacts/Consolidated State Performance Report, school years 2010-11, 2011-12, and 2012-13,http://www2.ed.gov/admins/lead/account/consolidated/index.html. This table was prepared January 2015 and can also be viewed here.