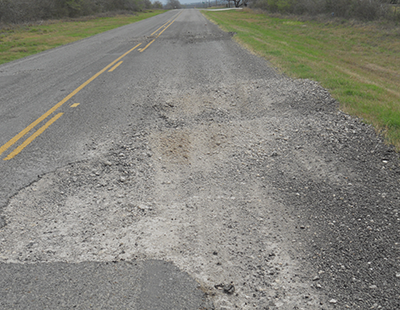 Large hole on FM road
Traffic on Texas highways is up more than 200 percent in the last few decades but the highway system has grown by only a scant 20 percent. Catching up will be costly said Joe Weber, executive director of the Texas Department.
"For our roadway infrastructure alone we need at least an additional five billion a year to meet existing demands," Weber told the House Transportation Committee.
Weber said $1 billion is needed just to fix roads torn up by the oil & gas drilling industry.
Voters last November passed Proposition 1 that now allows a portion of the tax on oil & gas production to go to roads. That amounted to $1.7 billion dollars for this year's state budget. But with the price of oil half what it was a year ago, those taxes will fall too.
Governor Greg Abbott has a plan to also divert taxes from vehicle sales to the road fund. Yet the total will still likely be a billion short of all that TxDOT says it needs.
Rep. Joe Pickett, D-El Paso, chairman of the Transportation Committee, said there'll be no quick fixes.
"I think we will make progress but even if we had the money today you know as well as I do, it takes years to implement a lot of this stuff," said Pickett.
Bottom line: It's a rough future for funding Texas's rough roads.