Cheryl Farrell moved from The Woodlands to the water.
"It's beautiful down here. It's a very nice place to live," said Farrell.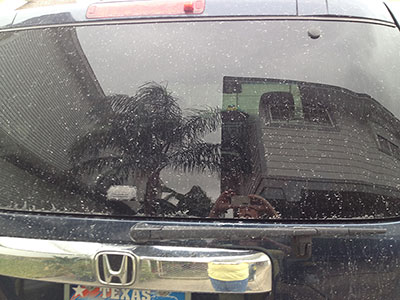 "Marathon Dust" is from Omega Bay subdivision in La Marque from dust that landed on their vehicle January 13th. Photo by: Cheryl Farrell
Farrell and her husband live in La Marque, just north of Galveston Island, a place where a sea breeze can be refreshing. But last month, a breeze brought something else. Neighbors started calling each other and checking the community's online message board, asking, what is that stuff blowing onto our houses and yards and cars?
"I walk out and I saw the black cover on the charcoal grill and it was covered in that white powder. By that afternoon it was everywhere. It was not like a talcum powder, it was grittier than a talcum powder," Farrell said.
The white powder was coming from about two miles away from what had been the notorious BP Texas City refinery, site of deadly explosions. The refinery is now owned and operated by a division of Marathon Petroleum. The company would later tell Texas environmental officials that a malfunction caused the release of something called "catalyst fines".
That's a compound made of ultra-fine sand as well as aluminum. It's used to refine crude oil into gasoline. The catalyst dust spewed out a smokestack for nearly 24 hours. In all, the company estimates it lost 216,000 pounds. That's over a 100 tons, enough to fill about 14 dump trucks.
No one knows exactly how much landed on the communities. But to get rid of it, Marathon paid to spray wash 700 cars and about the same number of homes. Now, a month later, the white dust seems to have mostly washed away but in these water-front neighborhoods, some people are finding it hard to relax.
"What government official approved washing this stuff off our houses into our canals and back into our marshes," asked resident Bill Spenny.
He was helping lead a discussion among a couple dozen residents who met after work at the Bayou Vista Community Center. Spenny got ahold of a copy of a Material Safety Data sheet (MSD), a government required document in which Marathon spells out the dangers of the catalyst compound. The MSD talks about how the catalyst should not be flushed down sewers, onto soil, or into waterways. It warns that the catalyst might burn the lungs, cause allergic reactions, and could be a "cancer hazard".
"They just haven't done the right tests to understand why are we sick," Spenny said.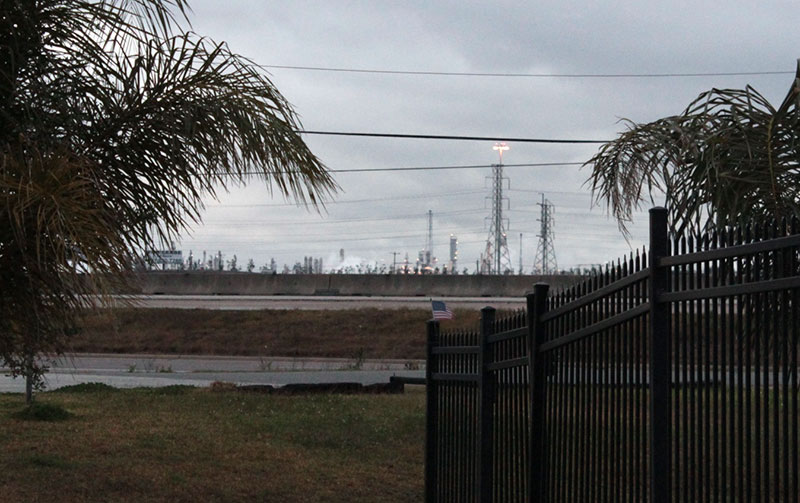 A refinery visible from neighborhood
The meeting was punctuated by coughs. It is cold season, after all. But that's not what Heather and Gary Crich think is causing their 13-year old daughter to cough.
"She had a CAT scan done," said Heather Crich
"It showed small airway disease," said Gary Crish.
"We saw on the CAT scan request that was sent to Texas Children's, it actually said due to a toxic chemical inhalation," said Heather.
In a just-released report, the Texas Commission on Environmental Quality said based on what data it could gather, the initial dust eruption probably did cause lung and eye irritation, but otherwise no adverse health effects would be expected.
We sought out other opinions.
"We're talking about a mild, chemical burn, and physical irritation from this very abrasive," said Dr. Chip Carson is at UT's Health Science Center in Houston.
Carson said that lung irritation would heal quickly and with such a limited one-time exposure, no long term effect would be expected. But a more skeptical take came from Neil Carman, a former state air pollution inspector now with the Sierra Club.
"I would be shocked if it was not found in peoples' homes because it was all over their properties and people are going to be tracking this into their homes," Carman told News 88.7.
The experts say there has been little study of the the effect catalyst dust migh have on people living near refineries. What we do know is that in recent years, there have been similar releases that have coated homes with white dust near refineries in Chicago, New Orleans, and Cheyenne Wyoming.
Marathon Petroleum did not respond to our requests for an interview in time for our story.
Editor's note: The word "County" was added at Wednesday 10:30 a.m. because West Bay is in Galveston County, not Galveston.