Houston is leading the nation in construction of new office buildings, not to mention the thousands of homes and apartments going up. The result isn't just a lot of shiny new buildings. It's a lot of leftover building material and demolition debris: lumber, sheetrock, shingles, glass, light fixture. Some of it can be recycled; the rest has to be buried in landfills.
Dividing up what goes where and loading it onto trucks happens at what's called a transfer station. But where to put one of those?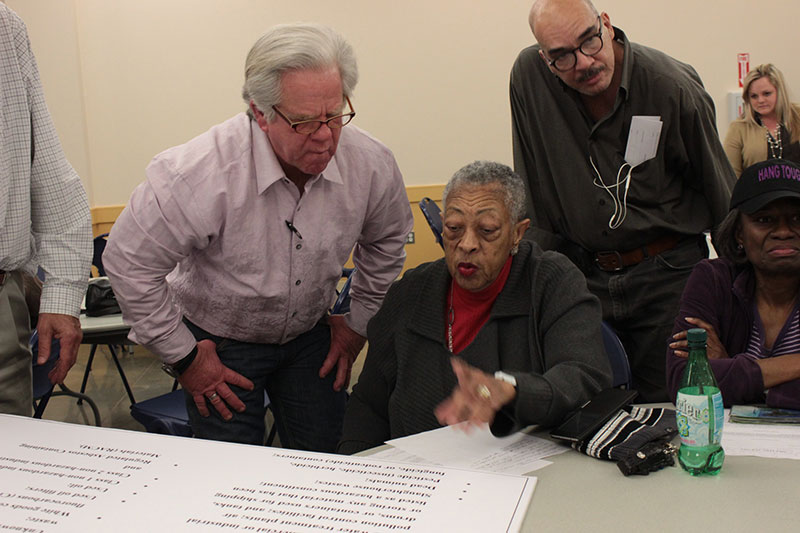 Dennis Williams talks with residents at TCEQ Hearing
At a hearing held in a community center on Houston's far south side by the Texas Commission on Environmental Quality, developers told how they would build a transfer station on Holmes Road. Now, if you live anywhere in the area which lies just south of NRG stadium, you know the road has a reputation. And it isn't good.
"It's open ditches, tires. It's where people dump at," said Dennis Williams. He runs a crushed concrete business on Holmes Road and now wants to add a transfer station for construction waste. It's a family business.
"We've also gone the extra mile hiring a top of the line engineering firm to design an environmentally friendly facility, something that looks really nice, for a dump site. It's going to be an attractive dump site to the eye," said Tyler Williams, Dennis Williams' son.
But here's the thing: the city used to operate a garbage dump here. It was closed down years ago and is now a golf course. Yet, the Holmes Road remains a magnet for illegal dumping. The roadsides are often lined with old mattresses, bags of garbage, and the like. Which is why any mention of a new facility that handles waste is the last thing some people who've lived here for years want to hear.
"This just don't make sense. We closed down one, and now we got another one poppin' up … my god, "said Charles Clemons. He was among a dozen or so residents who attended the hearing.
"I've lived in the area over 40 years. And I'm appalled at what I'm hearing tonight, that there's another waste facility coming into our neighborhood. We fought years back to get one closed on Holmes Road, and now I look around I stumble in here tonight and I hear we got some more stuff coming back into our neighborhood," Clemons told the state officials.
What seemed to appall Charles Clemons was what has been called environmental injustice: when factories that pollute or dumps that smell are located near neighborhoods of minority residents with modest incomes, residents who might lack the political clout and financial ability to stop such projects.
The developer of the transfer station, Dennis Williams, stayed after the formal hearing, talking with residents and going over poster board diagrams, explaining that to get a state permit to operate, his company has agreed to clean-up Holmes Road, no matter where the trash comes from.
"Not only are we going to be helping the community, we're going to be cleaning up two miles from our gate two miles going west, two miles going east," Williams told News 88.7.
His son Tyler said he understood how people might react to hearing about the proposed facility: "They freak out. "
But he said he learned something at the meeting.
"It's also nice to know that there are concerned citizens from this area that actually do care about it, still. It's nice to know that," Tyler Williams told News 88.7.
In coming months, the Texas Commission on Environmental Quality will decide whether to issue a permit for the transfer station to operate.