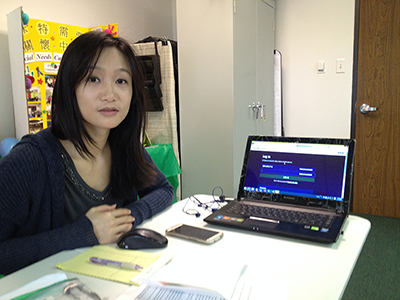 Liting Lin is a health law navigator with the nonprofit group Light & Salt Association in Houston's Asiatown. The group has received a federal grant to sign up Chinese and Vietnamese immigrants under the Affordable Care Act.
Helpful links
Houston-area assistance and upcoming enrollment events: Enroll Gulf Coast
National enrollment website and hotline: Healthcare.gov
Find a licensed insurance broker or agent: National Association of Health Underwriters zip code search.
Liting Lin, a navigator for the Affordable Care Act, has been busy. On the second floor of the Chinese Community Center in southwest Houston, she sees client after client, helping them navigate the federal helpline while also translating from Mandarin.
Her first client on Wednesday, Bifu Wu, works as a sushi chef at a restaurant in the Montrose neighborhood.
Wu, 41, wanted to shop for a plan, but he's been locked out of his profile on the healthcare.gov website. Lin called the 800 number for assistance. The two were on hold for almost 30 minutes.
Finally, an operator came on the line and starts taking down information from Lin.
"What city did you say that was?" the operator asked.
"Houston, Texas," Lin told her.
"Houston?"
"Yes."
The operator spoke briefly with Wu, asking him to confirm that Lin could speak on his behalf.
Last year, Wu began the application process but never finished it. This year he is determined to find some coverage.
He is not alone. This year more than a million Texans have already signed up or were automatically re-enrolled in marketplace coverage from last year. That's up 38 percent from last year, when 733,757 Texans enrolled.
The city of Houston has been working hard to get more uninsured residents to sign up this year.
"Here in Houston we have about 31 percent of the population that does not have health insurance," said Porfirio Villareal, a spokesman for the city's Department of Health and Human Services.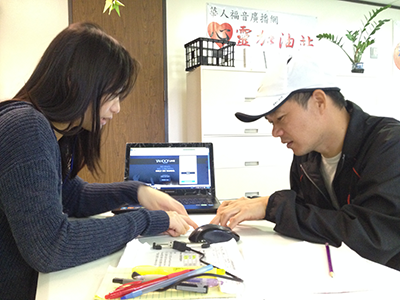 Liting Lin helps Bifu Wu, an uninsured sushi chef, enroll in a health plan before the Feb. 15 deadline.
"That's very costly, and of course there's a lot of suffering when people don't have insurance," he added.
The federal government gave the city a $1.8 million grant to do outreach and enrollment during this second round of Obamacare enrollment.
"This year we've done more radio ads, we've done more billboards," Villareal said. "We've also sent postcards to targeted zip codes, so that has helped. And also, we're everywhere. We've gone to more than 500 events."
One of the city's busiest sign-up locations has been the community center in Gulfton, near Hillcroft Avenue.
Anhi Escalona stopped by Wednesday with her baby, hoping to enroll in a plan.
Escalona said her husband has some health problems, and the family really needs insurance. He just started a new job, and was unsure if it came with health coverage, or if they could afford the price.
"It's kind of a hassle, you know, because he had to go to hospital last month. And the bill is big," Escalona said.
But the city's insurance navigator, Leticia Chaw, had some bad news for Escalona. Chaw had run the numbers, and Escalona's family did not qualify for a subsidized health plan on the marketplace. The family did not make enough money.
"The income is below what the marketplace will accept in order to be able to qualify for insurance," Chaw said, looking at a chart on healthcare.gov.
More Information
Need help signing up? The deadline is Feb. 15
Counselors and navigators can help at city of Houston multi-service centers. Centers with extended hours from 8 a.m. to 9 p.m. include:
Acres Homes MSC, 6719 W. Montgomery
Denver Harbor MSC, 6402 Market Street
Magnolia MSC, 7037 Capitol Street
Northeast MSC, 9720 Spaulding
Southwest MSC, 6400 High Star
Sunnyside MSC, 9314 Cullen
Set up an appointment with an advisor by calling 832-393-5423. Appointments are on a first come, first served basis; the last one is set for 7 p.m.
Documents needed to enroll during an appointment include:
Proof of U.S. citizenship: social security number or copy of U.S. passport for all family members
State residency: driver's license, housing lease or utility bill
Income: W-2 forms or pay stubs; unemployment or disability; social security, pension and retirement income; or copy of latest tax return
Current health insurance: policy numbers for any current health insurance and information about job-related health insurance
Immigration status or legal residency: Immigration document status numbers.
Uninsured residents can sign up for a health plan on their own by visiting HealthCare.gov or CuidadoDeSalud.gov.
In some other states, that would automatically qualify the family for Medicaid instead. But not in Texas.
"So basically he is in that gap," Chaw said, speaking of Escalona's husband. "There is no Medicaid to offer him because, again, the state of Texas didn't extend the Medicaid."
The only thing Chow could offer was documentation to exempt the family from the tax penalty for not having insurance. She also pointed them to some free clinics and the county hospital system.
Other Houstonians, like Chengqun Su, did qualify for a subsidized plan.
Su immigrated to Houston in 2013 with her husband and teenage son.
Su, 50, works in fast food. Her new insurance will cover both herself and her husband, while her son will be covered through Medicaid or CHIP.
"Her husband is not very healthy, so they really need health insurance and she's really glad they could get it this year," said Liting Lin, translating for Su from Mandarin.
The couple's Blue Cross Blue Shield policy goes into effect on March 1. The total premium is $669 per month, but it will cost Su only $38 a month. The federal government will pay Blue Cross the rest, $631 a month.