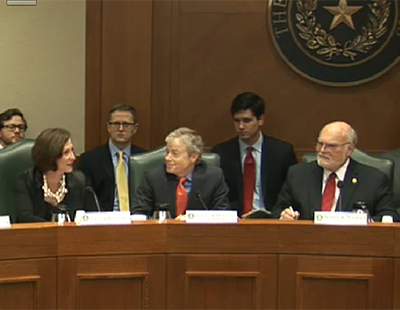 Senate Committee on Transportation
The head of the state Senate Committee on Transportation is proposing a constitutional amendment that would dedicate part of the motor vehicle sales tax to highway construction and maintenance.
Right now, all tax revenue from vehicle sales goes into the state's general fund. Speaking at an Austin news conference Wednesday, state Senator Robert Nichols said he wants to divert collections over $2.5 billion to transportation projects.
"It should automatically adjust for inflation, and sales tax does. And it also needs to not be tied with the power source, or the fuel," said Nichols.
Scott Haywood with the transportation advocacy group Move Texas Forward said the measure would provide a more stable source of funding, unlike the flat tax on gas which hasn't been raised in two decades.
"As our economy grows, as more people are moving here and more cars are on the road, we'll have increased revenue for those expenses that go with that," said Haywood.
Nichols estimates the measure could bring in about $2 billion a year for transportation needs. Last November, Texas voters approved Proposition 1, a constitutional amendment that diverts a portion of oil and gas revenues to highway projects.