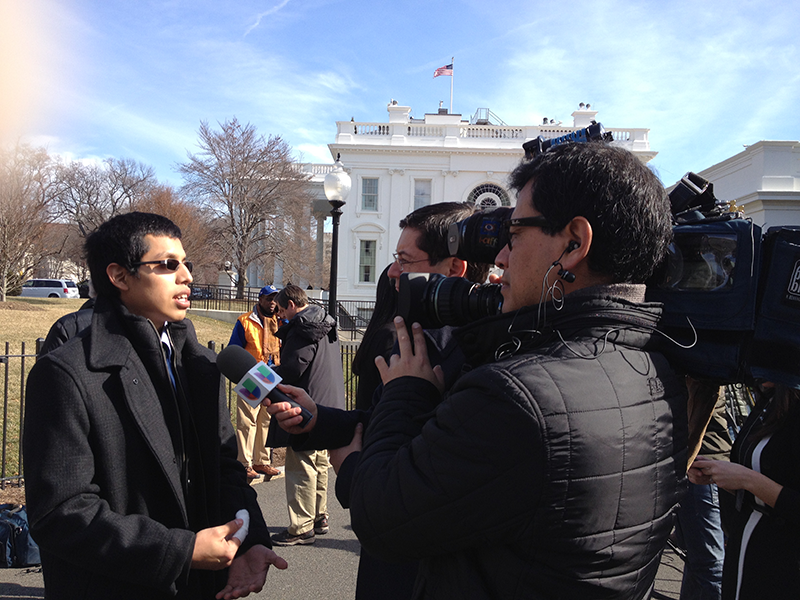 Steven Arteaga Rodriguez speaking to reporters. Photo credit: Gebe Martinez
At the White House, President Barack Obama met with a group of young immigrants Wednesday.
They all came to this country illegally as children and have used his executive action to defer deportation. They call themselves "DREAMers."
News 88.7's Laura Isensee catches up with one of them from Houston, Steven Arteaga Rodriguez. He's 19 years old, has lived most of his life in Houston and volunteers with Mi Familia Vota.
Here is a transcript of their conversation:
Laura Isensee: What was going through your mind when you were there at the White House with other Dreamers and the President?
Steven Arteaga Rodriguez: I was nervous wreck, like, my hands were sweating. I didn't know what to say. I was thinking of what to tell him. As soon as I stepped into the Oval Office, like, he opened the door. I was the first one in and I was left speechless.
Isensee: What did you tell him?
Rodriguez: I told him my personal story of how I came here when I was four months old. My mom brought us over here — me, my brother and my sister — and how I would see her struggle on a daily basis and how I couldn't do anything about it because at the time I was a little kid and I couldn't work. And apart from that, nobody would hire somebody who didn't have papers.
Isensee: Did you tell him anything else?
Rodriguez: I also told him thanks to him and thanks to the two executive actions he has taken, all that changed. Because now I could pretty much work and pay taxes. I'm not afraid anymore to come out of the shadows.
Isensee: Not all immigrants who qualify for this deferred action have applied for it. I'm wondering why did you apply and has it been worth it?
Rodriguez: If we don't apply, we don't take this opportunity, we wouldn't be where we are now. And we've gotten this far, and it wouldn't be fair for all those Dreamers that fought if, you know, not everybody applied. So that's why I would encourage other people to apply.
Isensee: Thank you very much for speaking with me.
Rodriguez: No problem.