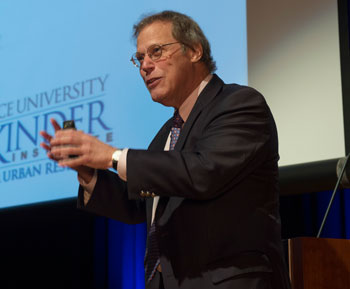 Stephen Klineberg
There's been an ongoing national conversation about race, discrimination and justice sparked by the recent high profile killings of black men in Ferguson, Missouri and New York City. Here in Houston, a majority of the African-American community feels that there is a bias against them in the criminal justice system. That's according to the latest survey from the Kinder Institute at Rice University.
News 88.7's Syeda Hasan sat down with one of the authors, Stephen Klineberg, to discuss his latest report on Houston's black community. His research showed that 78 percent of African-Americans felt their ethnic group was often discriminated against, but younger generations felt that prejudice was less of a barrier for them to advance their station in life.
Klineberg also noted that African-Americans have a strong racial solidarity which extends beyond class boundaries. He says this stems from hundreds of years of oppression and slavery and the shared experience of being discriminated against regardless of socio-economic status.
Klineberg will present his findings at the Houston Public Library as part of Black History Month.