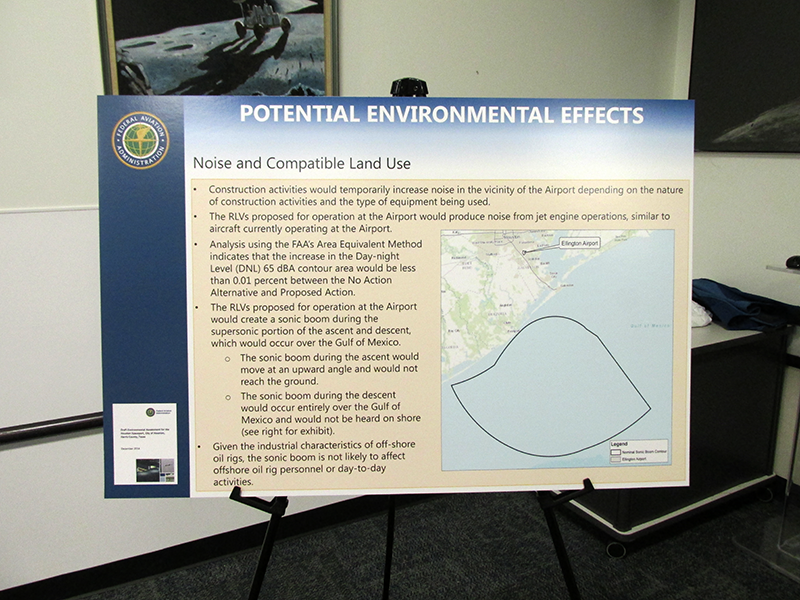 click to enlarge
A meeting was held at Space Center Houston to gather public comment on the proposed spaceport.
Close to one hundred years ago, Ellington Airport was a training ground for World War I pilots. Now it could see new life as a commercial spaceport. The Houston Airport System wants to allow private companies to stage horizontal take-offs of reusable launch vehicles, with the spacecraft riding on the back. To do those takeoffs, the airport system needs to get approval from the FAA, which is now taking public comment as part of an environmental assessment.
Cliff Hogg lives just across the street from Ellington. He's says he's happy to see Houston stay in the space program but he does have some concerns.
"I can envision a pretty loud noise as they're taking off so hopefully it would be during the day and not too disruptive to the environment, especially with the schools right next to it and things like that."
But Airport General Manager Arturo Machuca says those vehicles won't be any louder than a normal jet, and the actual space launch wouldn't take place until they fly out over the Gulf of Mexico.
"They go up to about 50,000 feet. They release the spacecraft and then they ignite rockets, and up they go."
Machuca says final approval of the Ellington Spaceport could come as soon as this summer.
Houston Spaceport Draft