The 2015 Houston Auto Show is underway. Among the cars and trucks making their Texas debut at NRG Center is the Alfa-Romeo 4C.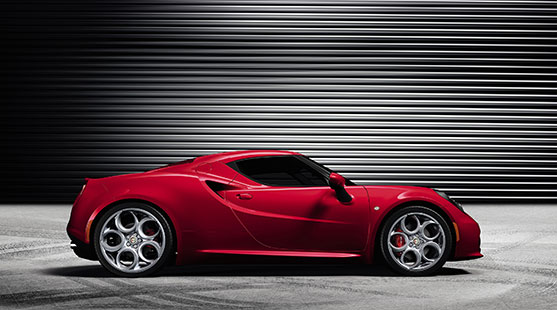 Side-view of the 2015 Alfa Romeo 4C Coupe.
The sports coupe marks the Italian automaker's return to the U.S. market after a decades-long absence.
Alfa-Romeo stopped importing cars to the U.S. in 1995. Back then, it couldn't sell enough cars to support a network of dealers and parts and service providers. Today, Alfa is part of a much larger conglomerate — Fiat-Chrysler Automobiles.
"So all those dealerships, all those back-office operations, everything that really is required to support a brand and sales of that brand in the United States is already essentially in place," says Bill Visnic, senior editor for the automotive consumer website Edmunds.com.
Visnic says Alfa's return to the U.S. market with the 4C sports coupe is part of Fiat-Chrysler's strategy to compete in the higher end of the market. Visnic says the $70,000 coupe is more suited to the track than the torn-up streets of our urban jungle.
"It's not exactly the ideal product to serve as the foundation for establishing, or re-establishing, the Alfa-Romeo brand. But, right now, it's the product Alfa-Romeo has. So you have to start somewhere," says Visnic.
The carmaker says it plans to introduce eight new models by 2018. Right now, Alfa's lineup in the U.S. includes neither a practical sedan nor a roomy SUV.
"The best idea, I think, obviously, for Alfa right now would be to, as soon as possible, be able to get a mainstream luxury sedan into this market. That's where, really, all the sales volume is right now," says Visnic.
Visnic also says the automaker needs to work hard to get the attention of drivers under the age of 40, who may have no idea what an Alfa-Romeo is. The 4C is on display at the Houston Auto Show through Sunday.