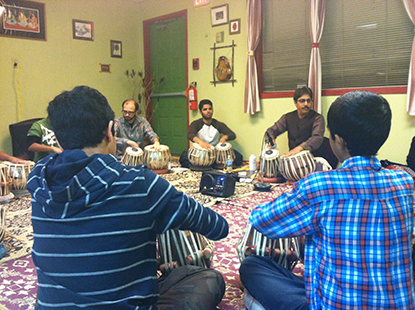 The tabla class sits in a circle on the floor while practicing.
Jason Zinn is sitting on the floor in front of his tabla, a classical Indian drum that's played by hand. As his lesson begins, he pays close attention to instructions from his guru, or teacher, Shantilal Shah. Shah plays a melody, and Zinn replicates it note for note.
There's a reason why Zinn and Shah have such a deep understanding. Seven years ago, Zinn moved to Houston from San Marcos for a job in oil and gas. Music had always been his hobby, and he wanted to try something new, so he bought a tabla.
"I can't remember where I heard it first, but I heard tabla and then I thought it was a really interesting melodic and rhythmic instrument," Zinn says. "So I tried to teach myself. That went nowhere. I lived right down the street from here, and came one day with my tabla in my hand and started learning."
Today, their relationship has grown beyond that of a teacher and student. Zinn has been living with his guru for over five years. After class, Shah's wife greets Zinn with motherly affection as she asks when he'll be home. Zinn practices tabla with Shah for hours each day, and Shah is a qualified instructor. He trained under a guru in India and has been studying tabla music for over 30 years. Last March, he performed in a concert series with the Houston Grand Opera, blending classical Indian music with Western styles.
In the tabla tradition, the relationship between a guru and his students is an important part of the learning process. Zinn says it's the first time he's studied music this way.
"I'd always been interested in apprenticeship since I was a little kid, and I've always been interested in Indian culture," he says. "So that along with the instrument itself really attracted me."
Zinn says he found a role model in Shah and was inspired by his guru's dedication to teaching his musical craft.
"I could see what his purpose was in life," Zinn says. "He had a very defined purpose that he wanted to go after, something to achieve, and I felt like even if I'm not interested in the music all the time, I can be focused on that."
Zinn is just one of the many students touched by his guru's teachings. Shah has been offering tabla lessons in Houston since 2003. On Tuesday evening, 11 students filter in for a lesson wheeling their tabla cases behind them. Ranging from middle schoolers to young professionals, they take their seats in a circle on the floor. As the class begins drumming away, Shah pauses and asks his students to recite the melodies verbally.
He says reciting the notes is crucial to playing tabla. He says it helps players understand the music and commit it to memory.
"The way we speak any other language, [it's the] same thing we have in tabla," Shah says.
He says he doesn't have any formal method for tracking his students' progress, but he watches them closely, taking the time to give each one individual attention. Shah says he thinks of himself as a postman, distributing the knowledge he gained from his own guru.
"So when I work with them, when they improve, they start focusing and using and growing, it's wonderful to see," he says.
During the lesson, Shah plays background music on his iPad, using an app that simulates a harmonium. He says these modern tools have made it easier to teach an ancient Indian art form to students in Houston.
His classes continue to grow. Houstonian Vishwanath Narayanamurthy enrolled his sons in tabla lessons.
"And then sitting with them, listening to this, I fell in love, and I'm a student myself now," Narayanamurthy says.
Shah's students are gearing up for their group performance which is expected to take place this fall.