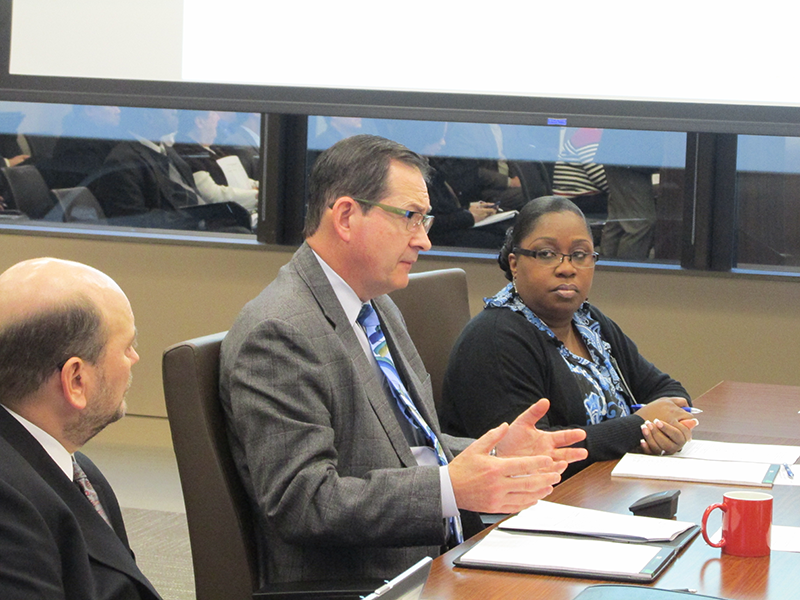 Director of Transportation Planning Alan Clark (center) discusses Prop 1 funding before an H-GAC panel.
The Houston-Galveston Area Council has put together a list of projects it would like to see funded through Proposition 1. The measure will provide about $1.7 billion this year for transportation projects around the state. About $288 million is coming to the eight-county Houston region.
H-GAC's Alan Clark says they want to use those funds for projects that have been in the planning stages but can't go forward because of a lack of money.
Near the top of the list is the continued widening of U.S. 290, from the Grand Parkway to the Waller County Line. Clark says Prop 1 money would allow them to start the project about three years ahead of schedule.
"I think many of the people driving that corridor would love to see the construction over with and done, and this allows the Texas Department of Transportation to get this job finished as quickly as possible."
A trouble spot in downtown Houston is also on the list. That's the left-hand exit from I-45 to Allen Parkway. Clark says they want to move that exit to the right side.
"I hate to think of the cost of people who've had fender-benders and crashes at that location. It's a real safety issue."
Final approval of the projects could come as soon as next month.
Here's a list of the proposed use of Prop 1 funding