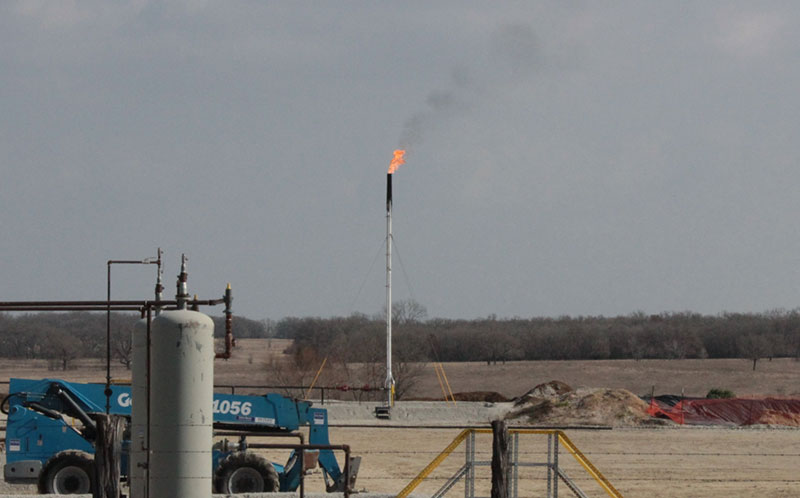 Example of a flare that burns off methane gas
In just the past few years, thousands of new oil and gas wells have been drilled in Texas. But as News 88.7 reported in November, many of them leak methane gas, sometimes from valves that are designed to release excess gas. The industry says it would cost tens of millions of dollars to replace them with high-tech valves that leak less.
But oil and gas operators might have to spend the money under a new proposal by the Obama administration to cut methane leaks by roughly half in the next decade. In Washington, Mark Brownstein with the Environmental Defense Fund, said it's a great idea because nationwide it's a lot of natural gas.
"We're talking about emissions each year of enough gas to heat six million homes," said Brownstein in a conference call with reporters.
Also on the call was the EDF's Jeremy Symons.
"This is a terrific opportunity to help clean the air in Texas and other oil producing states. These measures that are being taken are going to deliver significant local air quality benefits," said Symons.
But the oil & gas industry says it's already taken steps voluntarily. Jack Gerard leads the American Petroleum Institute. Earlier this month he spoke against new regulation.
"Methane emissions from hydraulic fractured natural gas wells have dropped 73 percent since 2011," Gerard told an industry luncheon last week in Washington.
A few states including Colorado have already mandated methane-leak prevention. Texas has not and is expected to resist efforts to enforce any new federal rules that could become effective in about a year.