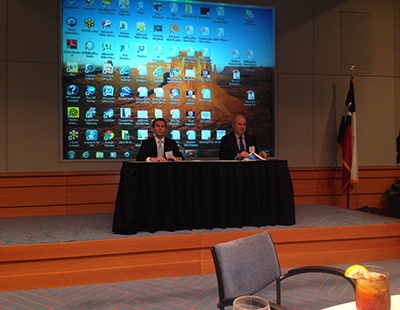 From left to right: Boyd W. Nash-Stacey, senior economist, BBVA Compass; Anthony Murphy, senior research economist and policy advisor, Federal Reserve Bank of Dallas. The two were the featured speakers at the 2015 Business Forecast Luncheon of the MIT Enterprise Forum of Texas, held at the Houston branch of the Dallas Fed.
One of Houston's largest banks is revising its forecast for Texas' economic growth downward for 2015, due to the swift decline in crude oil prices in recent months. BBVA Compass expects that, if crude oil continues to trade in the $50 per barrel range, the state's growth rate will slow by about 3 percentage points.
"We were basically trending at a rate of about 5 percent over the past couple of years, and that was kind of our expectation for 2015," says Boyd Nash-Stacey, an economist with the bank. "However, now we're seeing growth closer to 2 percent to 3 percent in 2015."
Nash-Stacey says the Houston area will fare better than in past oil price downturns, thanks to greater diversity in the region's economy. "Transportation is going to be the biggest beneficiary from lower oil prices," he says. "In addition to that, obviously the health care sector, which has high inputs of energy will also benefit from lower energy prices and won't necessarily be directly impacted by the drop in oil prices. So taken together, we see these as being positive for the Houston economy."
BBVA Compass estimates that even with job losses in the oil and gas sector, Houston's economy should still grow by at least 4 percent this year.
Economic Outlook – MIT Enterprise Forum, Jan 2015