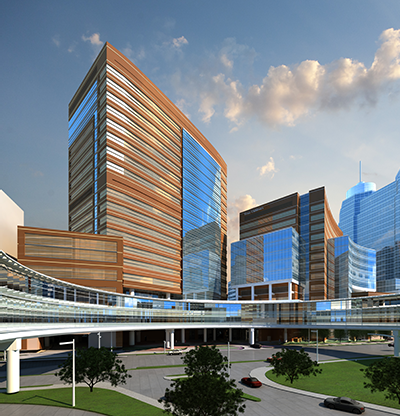 Artistic rendering of Texas Children's new 25-floor tower in the medical center.
Texas Children's Hospital will build a new tower in the medical center focusing on cardiac and critical care.
Just three years ago, Texas Children opened the Pavilion for Women with a focus on pregnancy and childbirth. Now the hospital says it will build again by adding 19 floors on top of an administrative building just south of the Pavilion, between Main and Fannin streets in the medical center.
The new tower will primarily house cardiac and critical care patients. It will be 25 stories high and allow the hospital to treat even more children.
"Houston is growing, the length of stays of some of these kids are getting longer, the conditions of these kids are more chronic," said Jill Pearsall, assistant vice president of facility planning and development.
The hospital's Heart Center will move into the new tower, and there will be 130 intensive care beds (a net increase of 30) and new operating rooms with the most up-to-date technology and equipment.
"The cardiovascular ICU will move into the ICU of the future with more family space, larger rooms (for more complex) patients, and all the equipment that support them."
Moving the cardiac department over to the new tower will free up space in Texas Children's West Tower. Pearsall says that will allow the hospital to add 18 exam rooms to the ER, for a total of 72.
The tower will cost $506 million and should open in 2018.