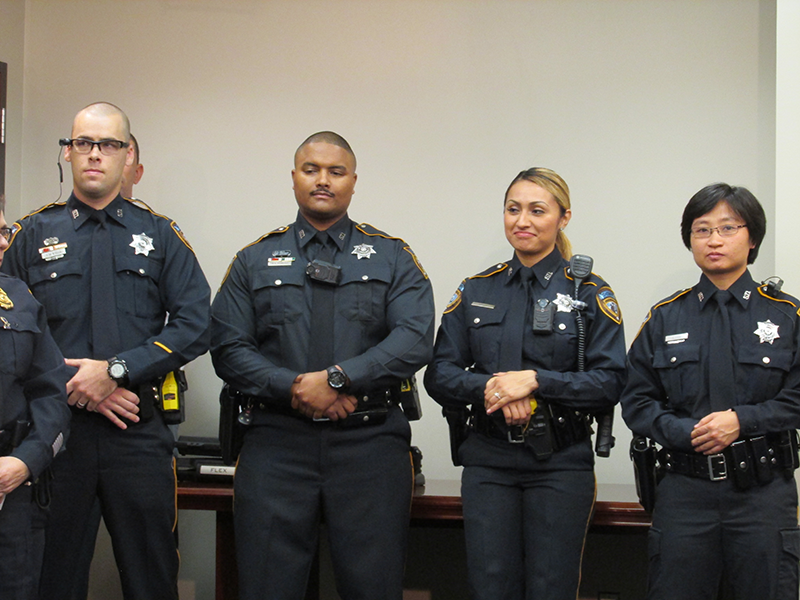 Examples of the body cameras the Harris County Sheriff's Office is testing:(L-R): eyeglass, chest, pocket, shoulder. Photo by Florian Martin
Sheriff Adrian Garcia says so far 38 deputies have been equipped with three different types of body cameras. One is worn on the shoulder, another one on the chest and one on glasses.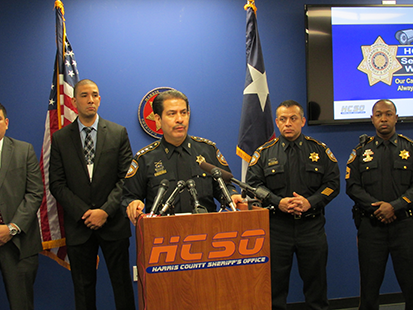 Harris County Sheriff Adrian Garcia introduces his office's technology upgrades.
Garcia said it's still a learning process.
"The deputies may have to start these while they're in their patrol car," he said. "You can't see from behind the steering wheel, so do we need to talk about more shoulder-mounted? The eyeglass is a neat-looking device but it has a cable to it and it's uncomfortable."
The goal is to have 850 more body cameras ready within three months. The money for the program, $900,000, was donated by the district attorney's office.
The sheriff's office has also launched a new security camera partnership with Harris County businesses.
As part of the Secure Watch initiative, the agency will be able to access live camera feed as the alarm goes off at a participating bank or retail store.
So far, 56 businesses in the county's unincorporated areas are participating in that program.