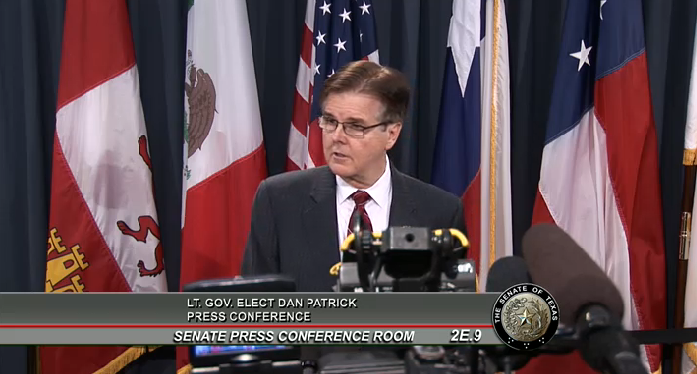 Screen grab of Lieutenant Governor elect Dan Patrick at Thursday's press conference
Dan Patrick was elected in November with 58 percent of the vote. He views that as a mandate from the people to follow through on his campaign promises.
"The people of Texas want us to address border security. They want a reduction of taxes on homes and businesses. They want to focus on the quality and reform in education, focus on transportation, family life issues and second amendment issues," Patrick said.
Patrick outlined his priorities during a press conference at the state capitol. He declined to be specific about how he would accomplish these goals, instead saying it would be up to the senators to craft the necessary legislation.
"This will not be a top down program. This will be working as a team, but working on a team of issues that the people have clearly said through this election that they want us to address," Patrick said.
Patrick says he expects the legislature to pass a conservative budget and is calling for an end to the diversion of the gas tax, which is intended to fund transportation, but instead funnels $600 million a year to other state agencies.