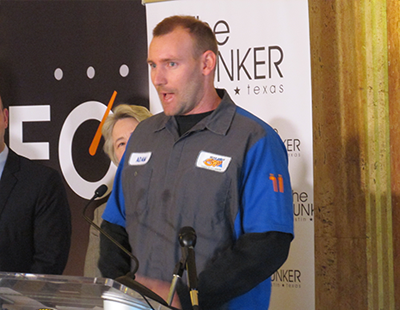 Adam Bartling, National Guard veteran and small business owner, is participating in the Veterans Business Battle.
Adam Bartling is a 16-year veteran of the Army National Guard. Three years ago, he bought a small custom signage company in Rosenberg. Since then, the label "veteran-owned and operated" proudly accompanies the business name.
Bartling said that can be an advantage.
"If you're providing a similar service as your competitor but they know that you're a veteran, it's easier to get the business because they see that you've already given back to the community, you've given back to the country," he said.
Bartling is participating in the Veterans Business Battle, a competition that kicked off in Houston this week. It is aimed at vets across the nation interested in business.
Applicants pitch a business plan, which will then be reviewed by a panel of judges.
The city of Houston is a sponsor. Mayor Annise Parker said the contest is good for veterans working on starting a business.
"Just the participation in the business plan competition will allow them to hone their focus on their new business and make them better prepared for launch," she said.
Veterans can apply through Jan. 30 at vetbizbattle.com.
The winner of the $1 million in capital will be determined at an event next month.