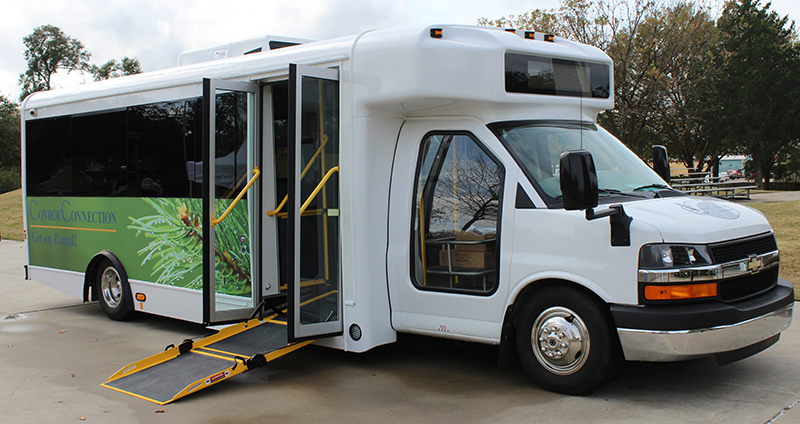 Conroe Connection will run 21-passenger buses that are handicapped-accessible. Photo courtesy City of Conroe.
Rush-hour traffic rumbles through downtown Conroe as Leon Apostolo closes his barber shop for the evening.
Over the past few years Apostolo says he's watched that traffic grow heavier and heavier, at all times of the day, and that means it's getting harder to park. Apostolo says it's time to find a solution.
"They could shuttle people to downtown Conroe and not have to worry about trying to find a place to park. Now that we have more businesses down here parking is an issue."
And that solution could now come in the form of a fixed-route bus system.
The U.S. Census Bureau says between 2010 and 2013, Conroe's population jumped by about 10%. And the city is responding to the increased traffic by starting up a new bus system called Conroe Connection.
Conroe Transportation Manager Shawn Johnson says the buses will start running in January along Frazier Street, and they'll make five stops along a busy route that connects the northern and southern portions of Loop 336.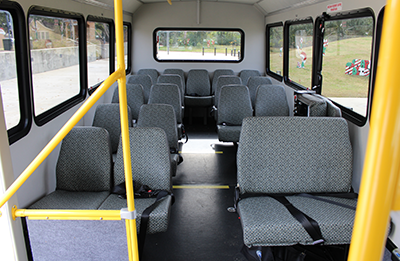 Conroe Connection's buses will make five stops along a north-south route that runs through the city. It is funded by a mix of local and federal money. Photo courtesy City of Conroe.
"They are 21-passenger buses with three wheelchair positions. They are low-floor kneeling buses and they are all equipped with ADA ramps."
Johnson says a lot of people who are moving to Conroe want public transit, but the city also has residents who struggle to pay for transportation.
Census figures show about 22% of Conroe's population lives below the federal poverty level. Johnson says for some of those residents, a trip may mean an expensive cab ride or a long walk.
"One of the main indicators for us that gave us a lot of insight as to where to build and initiate the beginnings of our route was the foot paths from pedestrians walking."
Conroe Connection will operate with a mix of federal and local funds. It'll cost about $295,000 a year to run those buses, along with another $147,000 to operate a separate paratransit service.
The fare for the fixed-route buses is a dollar. It's 75 cents for seniors and students.
Click here for a link to Conroe Connection's route.