Two brothers, Daniel and Matthew Ortiz, talk about going to the same high school and when they realized being their brother's keeper wasn't just about school, but also something very personal.
Daniel is now a student at the University of Houston and an intern at NASA. Matthew is a high school senior in the Cypress-Fairbanks Independent School District.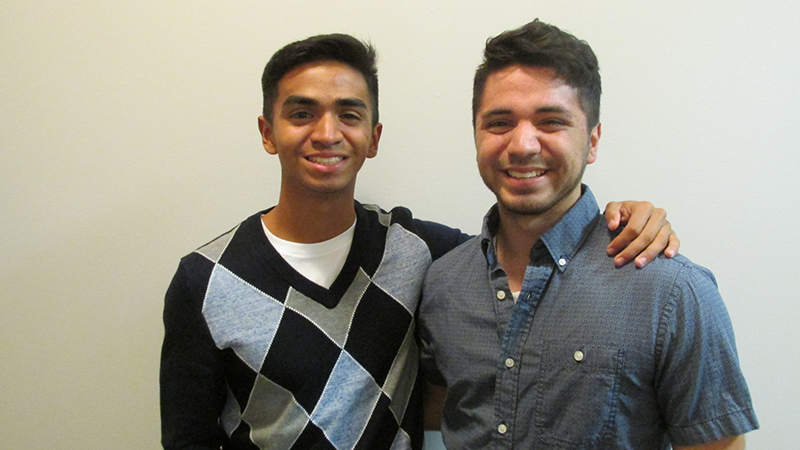 Matthew Ortiz, left, and his older brother Daniel Ortiz briefly attended the same high school in Cypress-Fairbanks. They're three years apart, but grew closer watching out for each other in school.
Here's a transcript of their conversation:
Matthew Ortiz (MO): That transition from middle school to high school is really scary. But I was actually really comforted in knowing that you'd be there. Because growing up you were always there, telling me, OK, this is what we need to do when this this and this happens, and when you go there, you need to do this, this and this — so it's just like, OK, so I'm set!
Daniel Ortiz (DO): Remember your freshman year? I think you weren't doing too good in geometry. So they put you in another level and your freshman year to me, I've always told you it's like one of the most important years because that sets your precedence for your GPA for the rest of high school.
I didn't want you to start off on the wrong foot. So I went to the dean of instruction at our high school. I had printed out all of your grades. I presented it to her. I gave her the name of your previous teacher, your current teacher. And I explained to her that starting you off on the right foot would only be done justice if you were able to be held accountable for the grades that you will be making in your newly selected class.
MO: You know I've always been really grateful for that because you know I needed that. That's one of my greatest memories from high school, knowing that my brother was willing to go the extra mile for me.
DO: I don't want to necessarily say worry but I didn't have a bigger brother. So since no one would do that for me, I thought that I would take ownership of the blessing, the privilege, the opportunity that I had to do that for someone else.
MO: I mean — I'm not going to lie. Whenever he'd ask me those texts, 'Hey, have you started college applications? Have you taken a college day?' You know, I sometimes turn off my read receipts.
It's not at all annoying. It's never something that, like, you know, weighs down on me, like, having him here. It's always something that lifts me up.
DO: Honestly, on my way over here, something that kept coming to my mind, 'He's just as much of a keeper as I am of his.'
I remember it was one night after the gym, we were driving back home. I remember you didn't know what was wrong with me. But you know me too well to know when something's up with me.
And you kept asking me, 'What's wrong? What's wrong?' and there was this long, repeated silence that I just wasn't willing to let go.
And, then finally, I told you, "Matthew … Matthew, I'm gay.' And how'd you respond again?
MO: I love you.
DO: At that point, you were my big brother. Being a big brother isn't being an older brother. Being a big brother doesn't have anything to do with age. It has to do with the security, the presence, the safety that I felt with you, that you felt with me.
That's something that all of high school kind of like haunted me and then for you to turn on the light and show me that the haunting was really some charade I was playing on myself. I still can't get over that night.
MO: I remember I used to think of, you know, all of your accomplishments as a shadow that cast over me. But now I kind of see it as more of an inspiration, something to strive towards. So I'm incredibly beyond proud of you. I just wanted to thank you for everything that you've done for me.